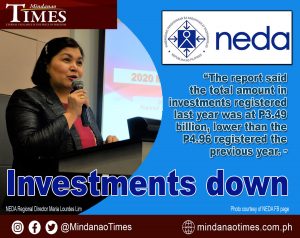 DAVAO CITY (MindaNews) – Registered investments in Davao Region reached P3.49 billion in 2021, declining by 29.63% compared with P4.96 billion approved in 2020, an official of the National Economic Development Authority (NEDA)-Davao reported.
 NEDA-Davao director Maria Lourdes Lim told a virtual press conference broadcast live over the Philippine Information Agency-Davao's Facebook page on Monday that the decline was caused by the lack of investments in the region's key sectors.
She said no Board of Investments (BOI)-approved projects were reported in real estate; manufacturing, administrative and support service activities; electricity, gas, steam, and air-conditioning supply; and agriculture, forestry, and fishing here last year.
 She said that BOI expected lower investment outcomes as the coronavirus disease (COVID-19) pandemic continues to impact investment flows not only in the country but also globally.
 Lim added that the government is optimistic that Republic Act 11534, otherwise known as the Corporate Recovery and Tax Incentives for Enterprises (CREATE) Act approved on March 26, 2021, "is expected to generate more investments noting the revisions for lower corporate income tax rate as it aims to modernize the country's investment incentives."
The official, however, reported that the region saw an increase in the number of micro, small, and medium enterprises (MSMEs).
She said that MSMEs assisted by the Department of Trade Industry (DTI)-Davao increased by 7% from 23,627 in 2020 to 25,184 in 2021 "through various programs such as product development, labeling, marketing and promotion" of its Negosyo Center.
 "The increase in the number of MSMEs assisted was also attributed to intensify promotion and capacity building on ecommerce, advocacy activities through social media as well as new businesses that opened during the time of pandemic such as suppliers of medical supplies," Lim added.
 Loans extended to MSMEs likewise increased from P68.52 million in 2020 to P298.1 million in 2021, comprising a total of 1,994 applications approved out of 3,359 applications endorsed.
She said that efforts to implement the Prevent, Detect, Isolate, Treat, Reintegrate, and accelerated Vaccination (PDITR) strategy of the Regional Task Force against COVID-19, which includes measures such as the aggressive promotion and enforcement of minimum public health standards and imposition of granular lockdowns can help in the recovery of the regional economy. (Antonio L. Colina IV / MindaNews)