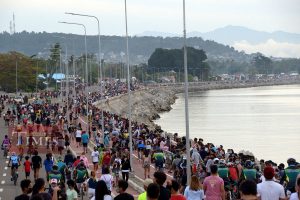 THE city government has begged residents not to make the coastal road as cause in the spread of the COVID-19 virus.
The call was made as residents have gone to the portion of the 18.5 kilometer road which has been opened to the public.
"Walay mobadlong sa inyoha to appreciate the beauty of the coastal road. Ang atoa lang is dili siya mahimo nga dahilan sa massive spread of infection, so please follow minimum public health standards," said Dr. Michelle Schlosser, spokesperson of the City COVID-19 Task Force over the weekend.
Schlosser also called on unvaccinated residents to get themselves inoculated, and those who have been fully vaccinated to get booster shots, after 75 cases of highly transmissible Omicron variant was found in the city as of last week.
Although those infected with variant have recovered from the ailment, she said they have undergone the repeat of the protocols to ensure that they cannot contaminate others.
Of the cases, 65 were local cases and 10 were returning overseas Filipinos. 
Schlosser said residents must also continue to follow protocols as the virus has remained a threat even as she said that barangay officials have expressed concern over gatherings at the newly-built portion of the P33.7 billion road.
She said police officials have increased visibility at the road to ensure that residents follow all the necessary guidelines including distancing from one another as she added that violators will be arrested.
"Our police officers are intensifying minimum public health standards tanang moadto diha. Karon bantay bantay mo kay naay manakop sa inyoha pag dili mo mo-follow og minimum public health standards," Schlosser said as she added that wearing of face masks is mandatory.