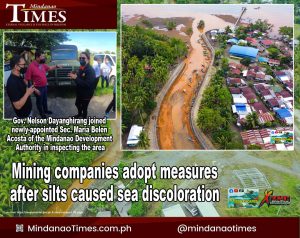 THE COMPANIES that caused the siltation of the rivers in the boundary of Pantukan in Davao de Oro and Banaybanay in Davao Oriental have implemented interventions to curb the problem.
In a statement sent Tuesday, the Riverbend Consolidated Mining Corp. (Riverbend) and Arc Nickel Resources Inc. (ANRI) said they have built two mega-dams, 13 settling ponds, and silt curtains at strategic points in its mining area "to prevent silt from going to the sea." They also initiated zero discharge of wastewater by suctioning the impounded water.
The companies said their action was in response to the order of the Mines and Geosciences Bureau (MGB) "to enhance its environmental control systems to prevent a repeat of the discoloration and siltation incident in the Mapagba and Pintatagan rivers in Banaybanay, Davao Oriental."
Riverbend owns the mineral production sharing agreement for a mining area in Banaybanay, while ANRI is its operator.
Teams from the MGB, Department of Environment and Natural Resources, Environmental Management Bureau, Provincial Environment and Natural Resources Office, and Community Environmental and Natural Resources Office have been monitoring the construction of the infrastructure facilities needed to ensure that the mining site will have enough facilities to "handle exceptional rainfall volume."
Josue A. Lapitan, ANRI president and chief operating officer, said they immediately implemented steps to address the siltation and discoloration of the rivers immediately after they discovered the incident.
"And with the prescribed environmental control improvements already in place, we are seeing significant progress in the clean-up and rehabilitation efforts and are confident similar occurrences won't happen again,' said Lapitan as the companies also provided food assistance to affected residents.
They have also hired residents for a cash-for-work program to help in the cleanup efforts and in planting bamboos along the riverbanks and other areas to prevent erosion.
"We would like to express our sincere apologies to all those in the affected communities and we assure them that their welfare is of utmost importance. We are working as fast as we can to clean up the affected rivers and thus lessen the inconvenience to them," Lapitan added.
In the late part of December, the municipal government of Pantukan passed a resolution asking the MGB to stop the mining operations as the setting of road access to the mining sites was blamed for the discoloration of the rivers.
The provincial government of Davao Oriental also followed suit as Gov. Nelson Dayanghirang joined newly-appointed Secretary Maria Belen Acosta of the Mindanao Development Authority in inspecting the area impacted by the problem.
Dayanghirang even sought the total stoppage of the mining activity, saying that the benefit outweighs its impact on the environment.