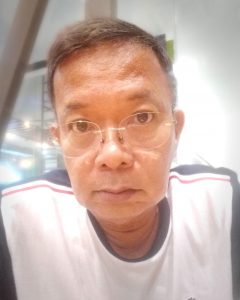 IT'S been more than a week since our father has died and I now find myself absent-mindedly poring over our family's accumulation of baby pictures spanning many generations. It's a gravitational pull that's a natural step towards healing perhaps, a friend had confided. Yup, the beginning of therapeutic remedy indeed, although passing the time and looking at old photos have always been any oldie's passion.
Way back when pops was still alive, I particularly loved the way those sad eyes lit up whenever someone held any of his great-great babies close to his face.
Already long gone had been the days when he could still take them in his arms so that a close buzz had been the next best thing. I guess the last time he held a baby must have been with great-great Deone, six or seven years ago, long before the coming of two to younger brothers, the twins and eventually, his three great-great grandchildren. I also remember during that time, he was already seated in the old rocking chair, not anymore able to confidently stand and slow dance with Deone, like he used to with his earlier infant grandchildren.
Then in these final months before he finally passed, he'd just be content with merely seeing pictures of the family's apos briefly in our cell phones, usually right after we have taken them with him. During one Sunday a few months ago, he and I even joked about how we couldn't tell apart my two sons in the baby pictures in my CP. Those very same images I find myself looking at now. Could it be in my still-silent grief, I'm trying hard to imagine seeing his grandchildren through his very eyes?
Surely, one cannot but always slip out a smile every time. I'm reminded of many things enough to smile despite  our family sadness. I am instantly reminded of one beloved lady Joplin old friend of mine who always kid me about not delving deep into my blues or else… she would jam along with me. And then suddenly,  I am now wishing we were in some stage jamming away now. Then, from the way things are during this grey early morn, any obnoxious friend will do, loud and silly, just to keep out this bit of cloud hanging over my head, even for but a moment. Thing is, surprise surprise, the continuous riot of street dogs outside our door doesn't even bother me. They've suddenly become a welcome relief to this heavy groove of losing someone so dear like our dad and Papa Ding . Them dogs and these photos.