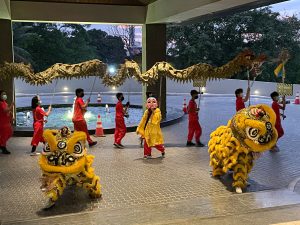 IT has been two years since I last attended a lively and colorful Chinese Lunar Year celebration in Davao City.  So you can imagine my joy when I got an invitation from DusitD2 Davao's GM Christoph Kuch, Dusit Thani Cluster Director for Sales and Marketing of Manila Lannie Alkuino Merilo, and Marketing & Communications Manager Ariesha Faith Dimaano to join them in welcoming the Chinese Lunar Year of the Tiger last February 1, 2022.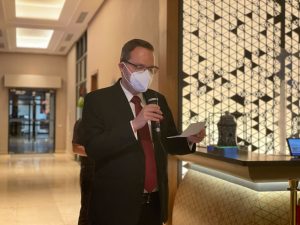 There was a simultaneous celebration that took place that auspicious day at the dusitD2 Davao and Dusit Thani Lubi Plantation Resort in Davao De Oro in welcoming the Year of the Water Tiger. Naturally, the special event was held to usher in prosperity, which according to Lannie A. Merilo is such a big and special event held in Thailand annually. Goodness, who doesn't wish for prosperity in these challenging times we are facing. The DusitD2 celebration had a few chosen media guests, industry partners, and hotel and resort patrons enjoying that night.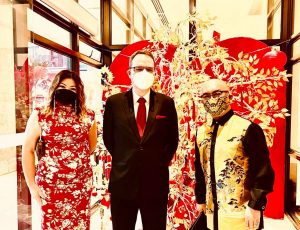 At the beautifully festooned hotel lobby showcasing a vibrant Tree of Fortune in red and gold, GM Christoph Kuch delivered his message saying, "In our own little way here in Dusit, we'd like to welcome this special event with our highly valued business partners and guests. We wish that you and your loved ones will have a prosperous year ahead; and we hope that the coming days will continue to be brighter and better for all of us."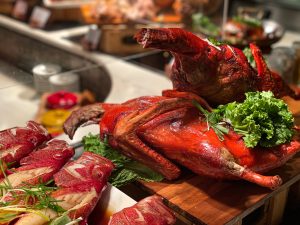 The opening celebration at the lobby was highlighted with traditional Chinese rituals like the offering of fruits to the dancing lions by both GM Christoph Kuch and madam Lannie A. Merilo, the throwing of coins for good fortune participated in by the hotel patrons, and the distribution of red ang paos as tokens of good wishes. The much awaited traditional lion and dragon dance was performed by the Davao Lion Dancers Association to drive away evil spirits and usher in good luck and blessings for the community. These activities were spearheaded by GM Christoph Kuch, Cluster DOSM Lannie A. Merilo, the ExCom of Dusit Davao, and the heads of departments. Guests, both Chinoys and Pinoys, happily participated in the Chinese rituals as well.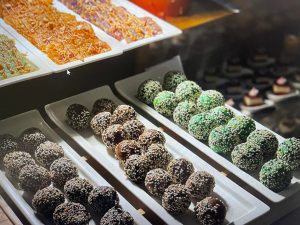 After the colorful opening ceremony, the guests were then led to the Madayaw Café where a lavish culinary feast, ably prepared by Chef Alex Destriza and his team, awaited them. The Chinese New Year spread was comprised of generous servings of appetizers, entrees and desserts. The carving station highlighted its roasted duck and fortune chicken; while a mouthwatering display of seafood took a desirable spot in the restaurant's offerings as well. Some of the special Chinese cuisine served that night included Chinese style beef tenderloin, salt and pepper squid, cha misua noodles, pork patatim, fried veggie spring rolls and steamed garlic shrimps.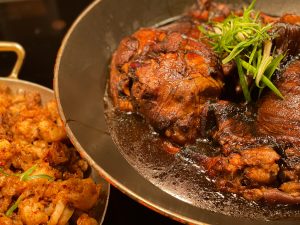 Dusit Hotel and Resort Properties continues to implement strictly the Dusit Care Initiative to ensure the safety and good health of its clients and employees.  Watch out for its Valentine's Day romantic promo coming next.