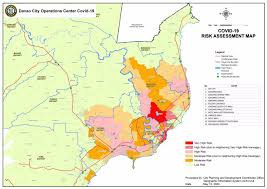 MORE THAN a 100 barangays were classified as critical risk barangays from Jan. 31 to Feb. 5.
Based on the barangay classification matrix, the barangays under critical risk are:
1-A

2-A

5-A

6-A

7-A

8-A

9-A

10-A

11-B

13-B

14-B

15-B

17-B

18-B

19-B

20-B

21-C

22-C

23-C

24-C

25-C

26-C

27-C

28-C

30-C

31-D

34-D

35-D

36-D

37-D

38-D

39-D

A. Angliongto, Sr.

Acacia (Buhangin)

Agdao Proper

Angalan

Bago Aplaya

Bago Gallera

Baliok

Bangkas Heights

Bato (Toril)

Biao Escuela

Binugao

Bucana

Buhangin Proper

Bunawan Proper

Cabantian

Cadalian

Calinan Proper

Carmen (Baguio)

Catalunan Grande

Catalunan Pequeño

Cawayan (Calinan)

Centro (San Juan, Agdao)

Communal

Crossing Bayabas

Daliao

Dumoy

Gov. Paciano Bangoy (Agdao)

Gov. Vicente Duterte (Agdao)

Gumalang

Ilang

Indangan

Kap. Monteverde, Sr. (Agdao)

Lacson (Calinan)

Langub

Lapu-lapu (Agdao)

Leon Garcia, Sr.

Lizada (Toril)

Los Amigos

Lubogan

Maa

Magtuod

Malagos

Mandug

Marapangi

Matina Aplaya

Matina Crossing

Matina Pangi

Mintal

Mulig

Pampanga

Paquibato Proper

Rafael Castillo

Riverside (Calinan)

San Antonio (Agdao)

Sasa

Sirawan

Sto. Niño (Tugbok)

Subasta

Tacunan

Talandang

Talomo Proper

Talomo River

Tamayong

Tamugan

Tigatto

Toril Proper

Tugbok Proper

Tungkalan

Ubalde

V. Hizon, Sr.

Wangan

Wilfredo Aquino

Wines
Also, 20 classified as high risk barangays are:
3-A

4-A

12-B

16-B

29-C

32-D

33-D

40-D

Bago Oshiro

Callawa

Dacudao (Calinan)

Eden

Lasang

Mahayag

Manuel Guianga

Mudiang

New Carmen

Panacan

Tibungco

Ula
Moreover, 18 are placed under high risk barangays (in close proximity to Critical Risk Barangays) are:
Balengaeng

Baracatan

Bayabas (Toril)

Biao Guianga

Biao Joaquin

Daliaon Plantation

Gatungan

Kilate

Lumiad

Malabog

Manambulan

Pañalum

Pangyan

Paradise Embak

San Isidro/Licanan

Suawan (Tuli)

Tagluno

Tagurano
Eighteen for Moderate risk barangays are :
Alambre (Toril)

Baganihan

Baguio Proper

Bantol

Buda

Camansi

Catigan

Marilog Proper

Matina Biao

Megkawayan

New Valencia

Salaysay

Sirib

Tagakpan

Tambobong

Tawan-tawan

Tibuloy

Waan
For moderate risk barangays (in close proximity to High Risk Barangays) are:
Fatima (Benowang)

Lampianao
Meanwhile, the city government has always reminded Davaoeños to avoid being complacent and always observe social distancing and the wearing of face mask and frequent hand washing of hands to prevent the spread of the COVID-19.