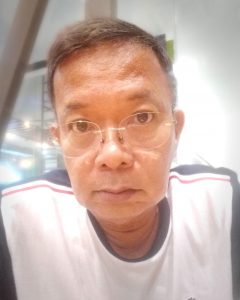 THE facets and phases by which we knew our father were many. For a time, aside from our two elder siblings, there were only five of us younger boys as our youngest, Maria Xenia was still years from being born. During that phase, Pops was disciplinarian to us five, while my mother played as our defense attorney. Despite that, one fond memory stands out. Around Christmastime, he'd bring us to the Coca-Cola plant in Matina during the evenings to witness the lighting of the  moving reindeer displays and as a bonus, also see the plant's bottling process.

When he finally had grandchildren, first by our eldest brother, a doting grandpa emerged from out of that strict father persona. Then, as we all grew up to start our own families and eventually leaving the parental nest, his transformation was finally complete. His love for their row of grandchildren was legendary, with him being a fixture at several school activities.  I even heard from our Manila-based nephews that whenever he was in that city, he'd occasionally go out with the boys for pool, a round of golf and beers. Through photos I saw later, he also find time to visit my son who lived and studied in Manila.

However, because the main concentration of grandchildren were here in Davao, my parents' home in Bajada became the natural center for all of our families' gatherings. As much as possible, we conveniently scheduled these on Sundays so many could attend. And that had always been the way until his final days. Thirteen days before, while we held a family lunch at the main house to celebrate my brother's birthday, no one had dared disturb him as he slept throughout the whole affair.

Come to think of it now, my memories with our father had spanned more than sixty years and in comparison to many, that's already quite a long time. In one earliest account, there is me standing at the balcony of our old house in Ponciano and looking down at him to wave goodbye while he waited for a jeepney on the way off to work. I vividly recall I had asked him for a centavo then. My father, in his all white uniform and dark shades merely smiled and then jokingly made a fist with his free hand, as he clasped his lunch wrapped in a brown paper bag with the other.

The last time I saw him, I was also looking down, but this time, as he lay now shrunken in his bed of pillows, face smothered by an oxygen mask and just silently looking up in my direction while I bid him goodbye. Two memories separated by years and years apart, with the last one unbeknownst to me as the final time we would be together. Sadly too, the last memory to close out forever our father-son saga I can now only share with my remaining siblings and the rest of the clan as though one bitter pill masquerading as a parting gift.