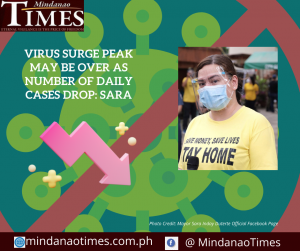 THE DROP in the daily count of coronavirus cases in the last three days may be a sign of an end to the coronavirus surge, Mayor Sara Duterte said on Monday's program on Davao City Disaster Radio.
Mayor Sara said that there is a huge possibility that lowered number of daily count of cases is a sign that the surge is almost over as it was observed the past weeks when the Omicron surge happened "fast and furious"
Based on the data released by the Department of Health Region XI, the city recorded 510 cases on January 30; 752 cases on Jan. 29; 901 cases on Jan. 28; 975 cases on Jan. 27; 1,039 on Jan. 26; 520 cases on Jan. 25; and, 841 cases on Jan. 24.
"Dili ni siya mao ang tubag, but possibly para sa akoa basin pababa na ang surge, nahuman na siya og peak and then panaog na siya karon, which is mao pud ang atoang nakita sa National Capital Region. Fast and furious siya nga surge, paspas siya nisaka, and then nibaba dayon siya, wala siya nidugay (This may not be the answer but it is possible, in my opinion, the surge of cases is going down and its peak is finished, and the cases are now going down. This is the same scenario that we are seeing in the National Capital Region. The surge is fast and furious and it immediately slowed down and it will not stay long)," she said.
The mayor said that the COVID-19 surge has had an impact on the healthcare facilities with the accommodation of positive patients.
She bared that based on the January 30 data, around 288 have been approved for home isolation; 265 admitted at the Southern Philippines Medical Center (SPMC); 532 are in the Temporary Treatment and Monitoring Facilities (TTMFs); 74 are in private hospitals, 41 are ongoing extractions; 18 are in the non-TTMF facilities; and, nine are admitted at hospitals outside the city.
Data from DOH XI would show the city's increasing number of recoveries with 1,698 new recoveries on Jan. 30; 762 on Jan. 29; 1,047 on Jan. 28; 526 on Jan. 27; 308 on Jan. 26; 267 on Jan. 25; and, 303 on Jan. 24.
The city government will continue to have an active response to the pandemic. She said that the city recently procured Molnupiravir, a COVID-19 oral treatment drug. A total of 1,000 bottles were donated to the SPMC while the remaining 1,000 bottles are for the city to use.
She said that the health group of the COVID-19 Task Force was instructed to make the medicine available to patients who are identified and given clearance by doctors whether they are in private hospitals, TTMFs, or in-home isolation.
The mayor said that the additional procurement of the Molnupiravir is still to be discussed.