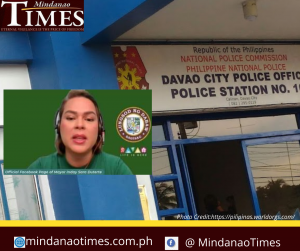 MAYOR Sara Duterte led the simultaneous handover of new buildings for Police Station (PS) 16 in Ma-a and PS 15 in Ecoland, and the operationalization of three more police offices in a virtual program held via Zoom on Jan. 28.
The simultaneous event also marked the operationalization of PS 16, PS 19 Eden, and PS 20 Los Amigos.
The Ma-a Police Station is a P8.15 million three-story building located at the Ma-a slaughterhouse area. The Ma-a Police Station, which covers the barangays of Ma-a, Magtuod, Langub, and New Carmen, used to be under PS 3 Talomo. It is 95% completed. 
The Ecoland Police Station (PS 15), located at Candelaria Street near the Hall of Justice and Davao City Overland Transport Terminal (DCOTT), is a P10.5 million three-story building to serve barangays 74, Matina Crossing, 75 Matina Aplaya, and part of 76-A Bucana. Its building construction is ongoing and is 93 percent completed.
In her message, Mayor Sara Duterte congratulated the Davao City Police Office (DCPO), under Col. Kirby John Brion Kraft, on the inauguration of the new police stations and the operationalization of police stations 16, 19, and 20 in Ma-a, Eden, and Los Amigos.
"Peace and order are among the foremost priorities of the city government of Davao. And by furthering the operations of our police force through the inauguration of the new police stations around the city, we may increase and strengthen police capability as we continuously improve law enforcement and maintain public order and safety in our community," the mayor said.
Through the expansion of the DCPO, Mayor Duterte hoped that the DCPO can continue to uphold its fundamental duty to the people – to serve the community, safeguard the lives and property of all, and protect every individual against threat and violence.
She urged the DCPO chief to remind all police personnel to be faithful to their job and not to their friends and acquaintances.
The city's chief executive also said, "The city government of Davao and all of the Davaoeños are grateful and in constant appreciation for the work of the men and women of the police force. May these police stations be avenues for us to continue to set up the services and upgrade the security we provide our citizens."
Kraft thanked Mayor Duterte for her tireless support to DCPO.
"Gaano man kaganda ang aming programa kung hindi nyo po ito susuportahan ay hindi po kami magtatagumpay. Kaya't umasa po kayo na ang buong Davao City police ay sumusuporta sa inyong pamumuno. Umasa po kayo na ipapatupad po namin ang batas dito sa Davao City na pantay-pantay at wala pong kinatatakutan. Maraming salamat sa inyong tiwala sa DCPO (No matter how good our programs are, without your support, we won't succeed. Be rest assured that the entire Davao City police support your leadership. Be rest assured that we will enforce the law in Davao City fairly and fearlessly. Thank you for your trust in DCPO)," Kraft added.
Meanwhile, Lt. Col. Randy P. Sambalod read the orders of Police Regional Office XI director Police Brig. Gen. Filmore Escobal, which activated PS 16 Ma-a, PS 19 Eden, and PS 20 Los Amigos.
The new PS 19 Eden is a three-story building that will rise on a 1,500-square lot in Barangay Eden, Toril. Its jurisdiction will cover barangays Tagluno, Eden, Atan-awe, Sibulan, Catigan, Baracatan, Tibuloy, and Tagurano.
The construction of the PS 20 Los Amigos three-storey building is currently ongoing. PS 20 Los Amigos is serving barangays Los Amigos, Angalan, Biao Guianga, Balengaeng, Biao Escuela, Tagakpan, Manuel Guianga, New Valencia, and Talandang.