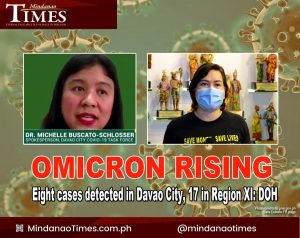 THE DEPARTMENT of Health confirmed that there are now eight Omicron cases in Davao City and 17 in total for Region XI.  
The results were part of the 43 specimens sent last Jan. 6 to the University of the Philippines Philippine Genome Center's (UP-PGC) for Whole Genome Sequencing (WGS). Three more were tested in the other regions. 
According to the statement, the 12 additional Omicron cases in the region were composed of ten local cases, and two Returning Overseas Filipinos (ROFs).
Among the ten local cases, eight were from Davao City, one case from Davao Oriental, and another case with an address in Davao de Oro based on his case investigation form (CIF). However, he is working and residing outside the region, so his case was retagged. 
Additional information on the new cases will be released once available. Currently, the Regional Epidemiology Surveillance Unit is closely coordinating with the concerned local government units for intensive case investigation and to ensure that management is aligned with the interim guidelines in the management of the Omicron variant. 
The DOH continues to reiterate to the public the importance of vaccination, strict adherence to minimum public health standards, and proper ventilation as layers of protection against airborne COVID-19. Sufficient ventilation can be achieved by always keeping windows or doors open for fresh air to flow.
A total of 1,604 new cases were reported on January 28, bringing the total cases to 123,945 with 14,976 active, 104,995 recovered, and 3,974 dead.
Of the total cases, 67,453 were reported in Davao City with 9,823 active, 55,795 recovered, and 1,832 dead. A total of 8,639 were reported in Davao de Oro, 22,391 in Davao del Norte, 12,810 in Davao del Sur, 4,119 in Davao Occidental, and 8,533 in Davao Oriental. with MindaNews