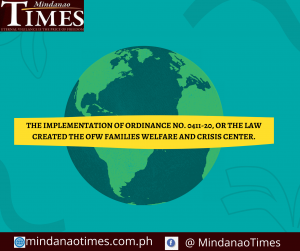 THE city government is setting up a hotline for Overseas Filipino Workers (OFWs) and their families as part of the implementation of the ordinance that seeks to help OFWs.
Lawyer, Marlisa Gallo, City Social Welfare and Development Office head, said the hotline, which is part of the implementation of Ordinance No. 0411-20, or the law created the OFW Families Welfare and Crisis Center.   
Gallo said the hotline and the center are both components of the program that links the OFWs with their families especially when they are facing challenges while working abroad.
"Base sa ordinance, siya tong contact person sa atoang OFW sa gawas ug sa iyang families diri nga ma-left behind. So posible ang pamilya diri moingon na si mama nako didto dili namo ma-contact, mao na ang among trabahuon karon. Very challenging ang programa og dako kaayo ang matabang sa OFW ug sa ilang pamilya nga nagpabilin nila," said Gallo whose office has been preparing for the implementation of the program.
Gallo emphasized the need for the program as last year, the office received 210 reports of OFWs in distress, some of them being referred by the Department of Social Welfare and Development (DSWD) and other partner agencies.
The center is also tasked to monitor and coordinate with other agencies to assist the OFWs and their families. 
The hotline, which  runs on a 24-hour period, provides crisis intervention mechanisms, and other assistance, including psychiatric and legal services. 
Gallo said since the hotline has yet to be functional, OFWs and their families can send reports to the office through its Facebook page or the Kean Gabriel Hotline (09088184444) for child rescue concerns.