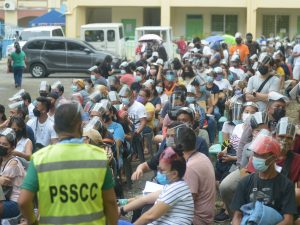 A city government official has urged residents who have experienced Influenza-like illnesses to get tested for COVID-19 to help in curbing the spread of the virus.
Some of those who have experienced symptoms of these illnesses, which are also similar to those experienced by people infected with the virus, and who have been exposed to positive COVID-19 cases have kept mum, said Dr. Michelle Schlosser, spokesperson of the COVID-19 Task Force, on Wednesday..
"Naay dili magsaba. Ako nalang ni syang itago' pagkahuman naay nibisita kapamilya nila o di nag-positive pud eh di nag-spread. If you think you have COVID-19 symptoms or if you think you have close contact with a COVID-19 positive case, please submit yourselves sa atong process," said Schlosser added on Wednesday..
She added that it is important for people who have experienced symptoms like fever and cough to get tested and be isolated to mitigate the spread of the virus.  "Kung gusto nato mahuman ang surge og dali, kung gusto gyud nato mahuman, then we have to follow these," she added.
She reiterated the city government's call for the people to strictly adhere to minimum health standards to help curb the spread of the COVID-19 virus after health experts blamed the surge at present to the Omicron variant.
Schlosser also confirmed the statement of Mayor Sara Duterte who attributed to gatherings during the Yuletide season as the main factor that caused the surge this year.
In a report by the regional office of the Department of Health, the city had 1,039 new cases on Wednesday. 
Duterte on Monday said the surge is expected to go down within the next ,months if the people follow the protocols. 
In agreeing with the mayor, Schlosser said the surge or slowdown of the spread of the virus would be dependent on the behavior of the people. "Kung mahimo lang, please allow us to help you. Allow us to assist you, allow us na matabangan mo in our Covid management," she added.