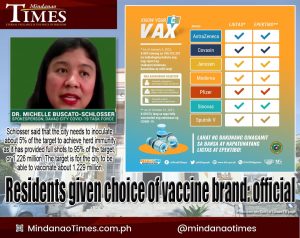 THE CITY government has urged residents to get vaccinated against COVID-19 as they will be given free choice on the brand they want to get inoculated with. 
 "We have all the brands now. Ginapa-fast track sa atong good mayor ang mga brands na preferred sa mga tao,"said Dr. Michelle Schlosser, COVID-19 Task Force spokesperson, on WEdnesday
She said the task forced, which Mayor Sara Duterte is heading, wants the people to have the choice of vaccine. 
.For those who have yet to receive their second doses because of the absence of the brands that they were given during their previous inoculation, Schlosser appealed to them to wait. "Naa lang siguro gamay nga delay because of procurement but they will receive the vaccine just in time for the second dose," she added as some people have yet to receive their second doses because of the unavailability of the brands. 
She added that the city government is looking for ways to resolve the problem because its goal is to vaccinate everyone. To protect everybody from the surge of cases. 
As of January 21, there were about 1.226 million residents who were fully vaccinated, or about 95% of the target 1.229 million, the number that would allow the city to achieve herd immunity.
This developed as Schlosser confirmed that the two vaccination sites whose personnel were infected with the virus, the the Crocodile Park and the People's Park, have resumed operations after these were disinfected.
She said that the city government has made sure that the contamination is contained that personnel supervising the vaccination activities are health.
"I can assure the public nga walay dapat ikahadlok ang atong mga health care worker nga gipa-duty didto. All are Reverse Transcript-Polymerase Chain Reaction (RT-PCR) negative and walay mga infections or symptoms na COVID related,"she said.