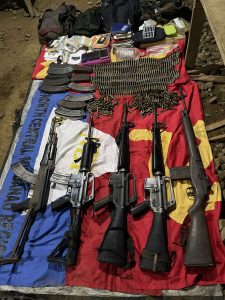 THE military seized war materiel, including firearms, during a series of encounters with the New People's Army in the shared boundary of Amai Manabilang, Lumba-Bayabao, and Maguing, all in Lanao del Sur on Jan. 20.
The report said among the clashes was when concerned citizens informed soldiers of the First Special Forces Battalion of the 403rd Brigade of the presence of about 30 armed men. They soldiers have been running after the rebels in the area.
The two-hour firefight resulted in the recovery of five firearms, ammunitions, communication equipment, medical supplies and personal belongings.
The military report said no one among the soldiers was hurt, but the team found blood stains as it suspected that some of the rebels were wounded.
The brigade has sent teams to conduct operations against the rebels as the battalion previously encountered members of the same group that resulted in the death of its top official and the seizure of more guns.
Lt Gen. Greg Almerol, Eastern Mindanao Commander chief, the NPA has been fleeing Bukidnon to other areas like Lanao del Sur after communities in their previous bases refused to support them anymore.
"After years of intimidation, the people have finally turned against the terrorist movement and are reaping for its benefits. Although their remnants are still on the run, lack of familiarity in the new terrain and support from communities made them easier to be pursued and engaged by our troops," Almerol said.