OBITUARY
CONRADO "ADING" HERRERA SAN PEDRO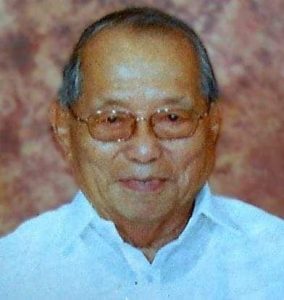 The patriarch of the Caraos-San Pedro family from the old Ponciano, passed away peacefully last January 22, 2022, at his home in Bajada, Davao City.
Ading was born April 6, 1929, in Corregidor Island, Cavite, to Sotero San Pedro and Antonietta Herrrera. Before the family moved to Davao, they lived in Bataan but managed to evade the horrors of Bataan's fall. During World War II, Ading and his mother fled Davao to escape the rampaging Japanese army and became refugees in Bukidnon where the young lad sold vegetables. After the war, they went back to Ponciano where Ading met his wife, the late Josefina "Josie" Caraos. From being an only child, Ading and his wife Josie produced 9 children, 20 grandchildren, 19 great grandchildren and 3 great-great grandchildren.
He worked many years as a salesman for several companies, including Dutch paint and Coca-Cola. His last stint was with BJ Marthel. He was an excellent trumpet player in his younger days, an avid golfer until his later 80's, and an active member of the Brotherhood of Christian Businessmen and Professionals. 
He is survived by his children Creador Erico, Victor Amante, Sotero III, Renato Maria and Maria Xenia and their families plus those of his late children Emmanuel, Sr., Amado Tadeo and Fides Pura. He had a son, Conrado Redentor, who died at a very young age. Interment will be on Cosmopolitan (former Patalinghug), Cabaguio St., Davao City on January 25, 2022 (Tuesday) to January 27 (Thursday) before his urn will finally be brought home to Bajada.
Only a maximum of 15 visitors are allowed in Cosmopolitan at one time. If you plan to pay respect, please coordinate with this number 0921-736-6085 Icoy.