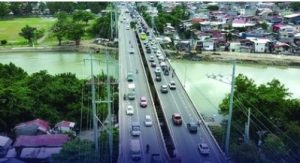 THE BOLTON Bridge II is now open to motorists but only for light vehicles or vehicles weighing six tons and below.
Department of Public Works and Highways (DPWH) XI spokesperson Dean Ortiz in an interview on Davao City Disaster Radio on Tuesday said the reopening of the bridge was decided after consultation with structural engineers who checked the integrity of the bridge after this was affected by the fire incident on Saturday.
Ortiz said the City Transportation and Traffic Management Office (CTTMO) has been advised on the reopening of the bridge.
CTTMO Chief Dionisio Abude earlier said that his office will implement two-way traffic for Bridge 2 for light vehicles. 
It can be recalled that Bolton Bridge 1 and 2 were closed after a huge fire occurred on Saturday under the bridge damaging 26 houses, wherein 24 are damaged and two are partially damaged. 
Meanwhile, the Davao City Engineer's Office (CEO) has started clearing the burnt site under Bolton Bridge, vowing to disallow the return of the informal settlers to the site.  
This, as CEO head Joey Felizarta apologized to the public for the inconvenience the fire has caused, especially in the traffic situation. Bolton Bridge 1 and 2 were closed to traffic on Saturday following the fire incident.
"On behalf of the city government of Davao, I would like to apologize to the public for the inconvenience brought by the fire last Saturday that damaged Bolton Bridge," he said.
According to Felizarta, recommendations were made years back on putting barriers to prevent the building of structures under the bridge.
"As early as the year 2018, barriers were already discussed and some installed under the bridge to prevent settlers from occupying the area. However, we failed to follow through on this action. We accept full responsibility for the inconvenience of the damage and closure of Bolton bridge," he added.
As he assumes full responsibility, Felizarta said, "Moving forward, we commit to becoming a better City Engineer's Office for public service in Davao City. Thank you!"
On Tuesday, Ortiz said that they are committed to placing barriers in the area so that informal settlers can no longer build structures.