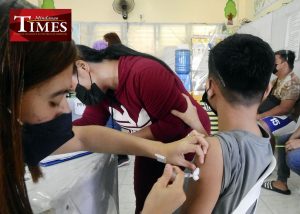 THE VACCINE Cluster of the City COVID-19 Task Force is just waiting for the Department of Health (DOH) guideline on the vaccination rollout for kids 5-11 years old.
COVID-19 Task Force spokesperson Michelle Schlosser bared this in a Viber interview with the City Information Office on Jan. 18, 2022.
"We have already talked about it. Atong hulaton is ang guidelines sa DOH kung unsa precautionary measures. Basically, mauna sila sa Manila, mu-pilot test man gyud na sila (We have already talked about it. We will wait for the guidelines from the DOH on the precautionary measures. Basically, Manila will do the rollout first, they will do a pilot test)," she said.
From there, if the pilot turns out to be successful, other local government units will follow suit. The DOH earlier announced that the initial vaccine rollout for children is scheduled from Feb. 1 to 7, 2022.
Vaccine czar Carlito Galvez, in a statement, said vaccinating kids is key to reopening schools shuttered by the pandemic and the easing of restrictions on minors.
He also said that reformulated Pfizer-BioNTech doses that have smaller and less concentrated dosages that will be used for the pediatric vaccination are expected to arrive in the country this month. 
The national government targets to immunize about 14.7 million children belonging to the 5-11 age group.
Schlosser, meanwhile, has previously lauded the turnout of pediatric vaccination for 12 to 17 years old in Davao City as both parents and children were "very receptive" to the rollout. She expects a similar reception from parents of younger kids.
A total of 109,096 pediatric 12-17 individuals have completed their two doses while 128,097 have received at least the first Pfizer dose as of Jan. 15, 2022. Pfizer is the only authorized vaccine for children, which according to the Food and Drug Administration, has generated a "robust" antibody response in the age group.