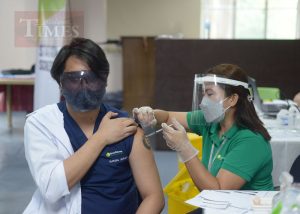 WITH ALL vaccination hubs now open, the local government targets to administer 24,000 to 27,000 booster shots daily to add another layer of protection for Davaoeños amid the COVID-19 surge that the city is currently experiencing.
Dr. Michelle Schlosser, COVID-19 Task Force spokesperson, told the City Information Office on Tuesday that they will ramp up the vaccination of the booster shots. She said that some hubs can cater as many as 500 individuals daily, although the average is between 300 and 500.
Since the city already vaccinated 98 percent of its target population for the first jab and 93 percent for the second does, they have shifted their focus on the booster rollout. 
As of Jan. 15, 2022, Davao City has given 1,268,468 first doses (97.58 percent) of anti-COVID-19 vaccines and 1,207,885 second jabs (92.92 percent).
"Gamay nalang atong punuon ana. Ginapaspasan run ang atong pagpa-booster. Makaya makuha ang 24,000 to 27,000 daily target using all our vaccination hubs (We only need a few to complete the percentage. We are hastening the booster rollout. We can achieve the 24,000 to 27,000 daily target using all our vaccination hubs)," the city health official said.
Dr. Schlosser also said that People's Park alone can cater to as 3,000 individuals every day while the drive-thru site at Crocodile Park can administer booster doses to 500 to 700 individuals.
"Ang naandan sa mga tao kay ang People's Park nalang ba, i-promote pud nato ang laing hubs aron dili magdasok tanan sa People's Park. We also have sectoral like Bakuna Booster by the sea. Naay mga establishments pud nag-offer pud og vaccination (People seem to just know People's Park but let us also promote other hubs so they won't crowd the park. We also have a sectoral vaccination like the Bakuna Booster by the Sea. Some establishments have also offered vaccination)," she added.
Fully vaccinated individuals, meaning those who have two doses of an anti-COVID vaccine except for the one-dose Johnson & Johnson, may avail of a booster shot at least three months from the last or second dose.
Schlosser added that people may choose their preferred booster brand as the city has sufficient vaccine allocation.
She said, "Open na ta for homologous or heterologous booster, pwede na karon mag mixture (We are now open for homologous or heterologous booster, the mixture booster is now allowed)."
A homologous booster shot uses the same brand of vaccine as the past two doses while a heterologous booster uses another vaccine brand, unlike the past two doses that were administered to an individual.