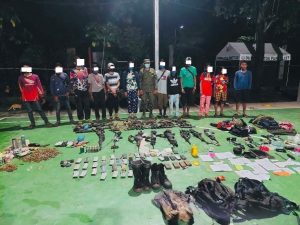 THE 1003RD Infantry Brigade of the 10th Infantry Division has successfully destroyed a Sub-Regional Committee under Southern Mindanao Regional Committee (SMRC) of the New People's Army (NPA), following the surrender of its key leaders and members.
Col. Consolito Yecla, the 1003rd Infantry brigade commander, said the entire leadership of the headquarters SRC5, SMRC, and its Sub-Regional Guerilla Unit (SRGU), surrendered to the brigade on Jan. 10, 13 and 16, 2022 at Sitio Minalong, Barangay Kahusayan, Kitaotao, Bukidnon and Sitio Sambulungan, Barangay Palma Gil, Talaingod, Davao del Norte. 
The military identified them as:
1) Ida Marie Montero, secretary, and finance officer;
2) Renato Lubguban, deputy secretary, and commanding officer, Sub-Regional Operational Command; 
3) Lutenant Apoga, commanding officer, Sub-Regional Guerilla Unit (SRGU);
4) Vivan Dumol, political instructor, Sub-Regional Guerilla Unit (SRGU);
5) Lito Taluwa, acting commanding officer of SRGU;
6) Enrico Caramat, political instructor;
7) Rudy Saballa, military adviser, and former CO, Dismantled GF56;
8) Lauret Tumbasay, medic;
9) Claudia Balite, political guide:
10) Analisa Panduma, supply officer;
11) Gerome Chucas, team keader;
12) Dioneng Mansugal, Milisyang Bayan 
13) Catalino Mansugal, Milisyang Bayan 
14) Simo Mansuga, Milisyang Bayan 
Accordingly, they brought nine high-powered firearms and two low-powered firearms consisting of three Colt M653 rifles; four M16 rifles; M14 rifle; one M79 grenade launcher; and two Caliber .45 pistols.
Also, they brought numerous war materiel, including five M16 short magazines; 36 pieces of M16 long magazines; five M203 ammunition, 1028 rounds (Rds) of M16 ammunition, 66 rounds of M14 ammunition, two handheld radios, 12 blasting caps, 8 Bandoleers, assorted medical paraphernalia, Personal belongings, Three USB sticks, and Two Memory Cards. 
In an initial interview with Montero, she said "Game over na kami, Sir (It's game over for us, sir)."
Moreover, MGen Ernesto C. Torres Jr, commander of the 10ID, lauded the brigade's lofty  accomplishment.
Also, the dismantling of SRC 5 was way ahead of the timeline set by President Rodrigo Roa Duterte. 
"This is the reality on the ground as opposed to the lies being peddled by the CPP Information Bureau that they still have strong cadres and mass bases. Our joint Intelligence, Focus Military Operations (FMO) and purposive CMO operations led to the destruction of SRC5 and SRGU of the Southern Mindanao Regional Committee (SMRC)," MGen Torres said. 
"Indeed, our efforts against the CPP-NPA in Southern Mindanao is on the endgame. Cadres after cadres have been neutralized, guerilla fronts after guerilla fronts have been dismantled. It's time to end this insurgency. Not tomorrow, but today. Again, I am calling the remaining deceived members of the Communist Terrorist Group to lay down your arms, return to the folds of the law and live a peaceful life ahead," the division commander further said.  
In 2016, it can be recalled that the Sub-Regional Committee 5, SMRC had three Guerilla Fronts namely GF 54, 55, and 56; and had one Sub-Regional Guerilla Unit (SRGU). All are now dismantled. 
Also in 2016, the entire SMRC had 14 Guerilla Fronts and 6 Sub-Regional Guerilla Units but are now down to just 4 Guerilla Fronts and 1 SRGU.