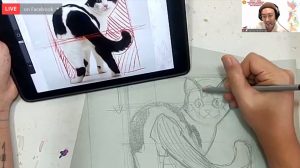 The 54th Shell National Student Arts Competition (NSAC) Virtual Art Interaction showcased how the power of art can magnify the expression of advocacies, as well as how art enhanced by technology can break boundaries. The last two sessions of this online workshop series, organized by the Pilipinas Shell Petroleum Corporation, were anchored on the 'restART' theme, which says that the nation's future can be revitalized through creativity and craftsmanship in the now countless subdisciplines that fall under the category of art.
During the virtual interactions, Conrado Parizal, Pilipinas Shell's Country Social Performance and Social Investment Manager, gave the vital role that the NSAC reinforces into the country's young generation of artists: "to inspire their countrymen to seize the wonder that still surrounds us despite the hardship, to see their own inner light and realize it despite the darkness."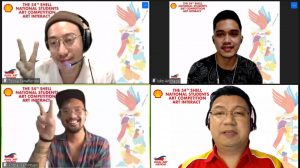 The Shell NSAC Virtual Art Interact further stressed the young artists' need to continue challenging their creative processes, while adapting to their contemporary surroundings.  Workshop participants learned how to use modern-day technology to produce art, as the two fields of discipline evolve in tandem with each other. Simultaneously, they recognized Filipinos' zeal for their values and beliefs, which together with art can inspire the people to strive for a better future.
Art and tech
The first session highlighted how the challenges posed by the lockdowns resulted in THE exploration of tech's unchartered territory and its many innovative applications for art. Through the NSAC virtual art interaction itself to livestreams showing the artists' creative process, technology has opened new ways for artists to distribute and display their works. It has also proven the public's palpable thirst for art despite the pandemic.
Leading the "From the Screen to Walls: A Mural Workshop" was Anjo Bolarda, muralist, graphic designer, and illustrator. "Without tech, I wouldn't be able to interact and grow my fanbase which is crucial to the life and development of an artist," maintained Bolarda.
NSAC Alumni Jophel Ybiosa shared the advantages that tech brings to art:  "My photos used to be displayed in private exhibits, but now with social media it can be displayed for all to see. What's important to me is people seeing my works."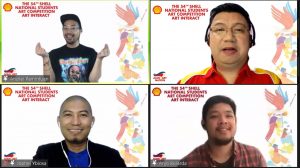 Art also serves a social purpose in communicating beliefs and advocacies like strengthening local communities by transmitting their tales using locally sourced resources. The combination of art and advocacy becomes a very personal synthesis of the artist's passions and issues. Art transforms into a platform for ideas or movements they genuinely believe in and champion.
Art and advocacy
As Tokwa Penaflorida, a figurative artist specializing in the human form, said, "You cannot really divorce art from other things, especially in helping the economy. Everything we are producing, whether in engineering, media, or even in cerebral things like science and math—all of those are still about the betterment of humanity. Art is always incorporated. It just boils down to being aware of the power it has in the different industries."
Isko Andrade, a three-time SHELL NSAC winner, acknowledged, "Art is everywhere. Passion and art can express one's self."
During the two sessions, leaders from the art world also gave their insights on success in their industry: "Support is really important in this field, like what Shell is doing: providing a future platform where artists can showcase their piece," said Cyrus Montano, self-taught mixed media artist.
Margaux Chua, art director and senior MMA of DDB Group Philippines, pointed out another pillar of success: "[Be] willing to learn. Ask from those who know more. The successful artists took the time to learn and asked the right questions."
Pete Vitalez, abstract artist from Parañaque City, agreed, adding that "people from diverse backgrounds can easily adopt. Let's say you have a degree in accountancy. How do you combine numbers with your work in fine arts? Or, if you have a degree in chemistry, how do you weave that with sculpture? It starts with passion."
Sarah Del Rosario, artist, event stylist, and fulltime freelance painter, encouraged her younger colleagues, saying, "Don't be shy to explore ideas. What we need is to continue with progress."
Art and the future
Andrade reminded young aspiring artists struggling with resources: "Material is not a hindrance for us to push forward. Overcome your fear."
As the youth grow to become society's future leaders, art and the talents of their generation follow suit. The Shell NSAC Virtual Art Interaction has shown that that transformation can be enhanced by both technology and the artist's own advocacy. Penaflorida described the role that he and his peers will play in the near future:  "Art is the conscience of the society. As an artist, you are obligated to give back to our society because it is where we get inspiration."