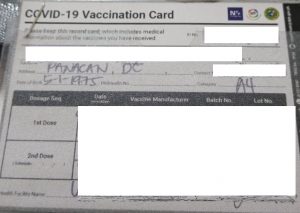 MAYOR Sara Duterte is lukewarm to using the vaccination card or the negative COVID-19 test results as requirements in transactions or in entering the city.
In her Monday radio program, the mayor said that requiring incoming airline passengers of negative COVID-19 test results before travelling will not assure that a surge of COVID-19 cases will be prevented.
She said the tests, taken three days before passengers travel to the city, won't matter because the incubation of the virus is longer than.
"The benefits (of re-imposing the policy)…outweigh the inconvenience that it will bring to the passengers, to the airline and to the economy of Davao City," she added.
Although imposed in 2020 when cases rose, the requirement, spelled out in an ordinance, was shelved after the national government placed the city on Alert Level 2 since last year. The classification would run until the middle of the month.
"(The policy) will just force people to spend on testing," she pointed as in the past, some people had faked the tests just so they could enter the city.
The mayor was also against the use of vaccination cards for transactions in public places, although she added that it would be the prerogative of other government offices and business establishments whether to make this as a requirements in dealing with their clients.
"Let us leave to the head of offices and to the management of business establishments on whether they will restrict the unvaccinated," she said.
Her position on the issue was based on providing choice to everyone to either get vaccinated or not. "So those who chose not to get vaccinated should not be discriminated against because they were given the choice," she explained.
"Why will we make it difficult for people who chose not to get vaccinated when we did not say vaccination is mandatory?" she added.
She pointed out that if there were cases that were not monitored, infection would be indiscriminate, and the severity would only be dependent on whether one is vaccinated or not as health experts said that unvaccinated are more vulnerable to get hospitalized or suffer severely from the illness.
She added that there have been available medicines against the virus, although this is not in commercial quantity yet.