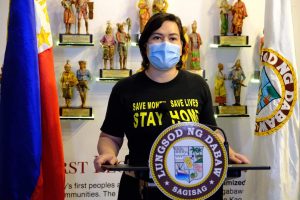 THE city council has a new indigenous people's mandatory representative (IPMR).
On Monday, Mayor Sara Duterte administered the oath of office of Peg-Buyyahon Rodolfo M. Mande of the Matigsalug Tribe as member of the city council.
Although she confirmed during her radio program that the petition of Bagobo Klata tribe representative Cherry Ann Codilla has not been resolved, the mayor said the newly-designated regional director of the National Commission on Indigenous Peoples helped in installing Mande as IPMR.
"Fortunately, we have a new regional director for NCIP, si Atty. (Michael) Mamukid and he was able to secure the permission sa tribo na he will proceed with the next tribe in line to select the IPMR," she added, pointing out that she convinced Mamukid on the need of an IPMR representative.
"Finally, after all that wait and delay na mag-take oath atoang IPMR, we now have a new IPMR. He was selected sa ilahang tribo Matigsalug under the supervision of the NCIP," she added.
Codilla, who has since petitioned that she be named IPMR, was supposed to replace Halila Sudagar when the term of the latter ended in 2018, but the NCIP blocked her assumption to office allegedly because of the lack of genealogy.
Because of the controversy, Sudagar was again tapped to continue her term, but opted to run for a city council seat in the 2019 elections, but eventually lost.
This prompted the NCIP to call for a second selection process, but the choice, Datu Demetrio Bolo, was not confirmed.