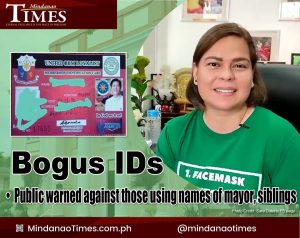 MAYOR Sara Duterte has warned over the activities of some groups who were allegedly using the names of the members of her family in soliciting money from the public or in pitching business proposals.
In her weekly radio program on Monday, the mayor urged those who have encountered these unscrupulous groups of people to report to the authorities so that they can be investigated.
"Directly go to police stations and file a blotter against (these individuals). You can also go to the National Bureau of Investigation (to file the report)," she added even as she urged the public not to believe these people.
She said she "received a report that someone was issuing an ID and they were collecting P30 up to P300," as she has not authorized anyone to collect any amount for identification cards to become members of groups supporting her.
She added that there may be "money-making schemes that have been using our names and these are all not true."
One group that was reported to have been selling for P30 the so-called "United BBM Loyalist" identification card was doing this in the villages in the city. Someone showed the card to her, she added.
A similar operation was monitored in Cagayan de Oro City and the group was selling an identification card for the bearer to become a member of the "Uniteam," the mayor added.
Uniteam is the term of the tandem for the 2022 electrons with Ferdinand Marcos Jr. as the presidential candidate and the mayor as the one running for vice president.
In the Cagayan de Oro City operation, those behind it claim they had set up a mobile phone application and had asked those that would pay them sums of money for their details including their mobile phone numbers.
On Sunday, Vice Mayor Sebastian Duterte, the mayor's younger brother, posted a similar warning on his personal Facebook account.
"If you encounter individuals (who would show you) their pictures with me, PRRD (President Rodrigo Roa Duterte), or my siblings then they would solicit money or pitch business ideas, that is a scam," the younger Duterte said.
"That is the style of the `hampaslupa," said Sebastian, adding that the people should learn from previous activities of similar nature in the past. "It is tiring already," he said.
The vice mayor is the youngest among the children of President Rodrigo Duterte and his former wife, Elizabeth Zimmerman. He is seeking the mayoralty post while eldest brother Paolo is running reelection as representative of the First District.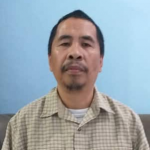 Managing Editor at Mindanao Times