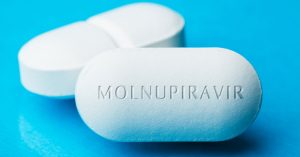 Presidential Adviser for Entrepreneurship and Go Negosyo founder Joey Concepcion has launched talks with suppliers of anti-viral drug Molnupiravir as a way to help small businesses whose frontline workers have been infected with COVID-19.
The Food and Drug Administration (FDA) recently approved the Emergency Use Authorization (EUA) for Molnupiravir, an oral medicine said to reduce severe symptoms of COVID-19.
"This is our way of helping MSMEs and our partners in the A Dose of Hope Program. We want them to get access to this drug as many frontline workers of businesses have been infected recently. They are yet to recover fully from the effects of the pandemic," said Concepcion.
Concepcion added that the consumption of the anti-viral drug should be closely supervised and monitored by doctors of the private sector.
Based on his initial talks with several suppliers, Concepcion said the price of Molnupiravir ranges between P1,991 to P5,200 per bottle, depending on the volume of orders and supplier.
"Through this initiative, we can alleviate the plight of our small businesses by providing their workers access to needed medicines that can help them recover from the virus. If they have recovered and healthy employees, they can continue doing business and help our economy," Concepcion stressed.
During the recent Town Hall Meeting organized by Go Negosyo, Vaccine Expert Panel member and infectious disease expert Dr. Rontgene Solante said Molnupiravir is given to patients with mild to moderate COVID-19 twice a day for five days to prevent them from being hospitalized and develop into a severe case of the virus.
"The data are telling us that it reduces the risk of hospitalization and the risk dying 30 percent. Thirty percent is still 30 percent, even if you say it's less than 50 percent," Solante said.
Solante said that when the data coming from different Indian studies were reviewed, Molnupiravir also helps reduce transmissibility of COVID-19.
"Because data tells us that if you give Molnupiravir, on the third day of the drug, you will have half of the viral load will be cut. Meaning you lower your viral load more than 50 percent during the third day of the drug," he said.
On the fifth day of the drug, Solante said the viral load will be further reduced by 80 percent.
"What is the impact there? There is a possibility that you can get patients go back to work because they're not transmissible because they're taking the drug and at the same time, the absence of symptoms which usually starts on the second and third day of the drug and total absence of symptoms five to seven days, that will make the patient really better and reduce the risk of hospitalization and also reduce the risk of transmissibility," he explained.
Concepcion said Molnupiravir could suffice for now until the arrival of Paxlovid, an oral formulation that is a combination of two drugs that is given in one formulation.
"It has been found out that it reduces hospitalization more than 80 percent if you give it in the first three days and first five days of symptoms," said Solante.
Small business owners who want to know more how they can purchase Molnupiravir from official suppliers can message the official Facebook of Go Negosyo https://www.facebook.com/gonegosyoofficial