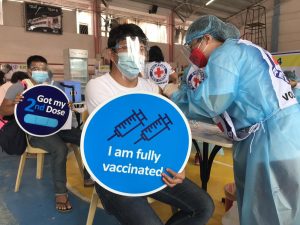 DAVAO Light and Power Co., Inc. (Davao Light) reaches 99.05% protection amongst its employees after having been fully vaccinated against COVID-19.
As of January 5, 2022, 313 out of 316 employees have already been fully vaccinated.
Creating a bubble protection effect within the household and the workplace, and eventually for its customers and stakeholders, Davao Light also prioritizes vaccination among its employees' dependents, households, and family members, most especially its contractors. At the latest, 79% protection has been achieved among its contractors: 982 out of 1,250 have been fully vaccinated.
In line with this, Davao Light together with Davao-based Aboitiz Business Units, Aboitiz Foundation Inc., Davao City LGU and the City Health Office (CHO) conducted vaccination runs across the 3 congressional districts from October to December 2021. As reaffirmation of the Aboitiz Group's support to the local government unit, mobile vaccination runs were also held for the following: Boystown Davao, Bahay Pag-asa, Home for Girls and Women, Sidlakan Women Crisis Center and Bahay Dangupan – with almost 50k jabs administered as of January 3, 2022.
Davao Light is one with the government in putting an end to the threat COVID-19 has brought for almost 2 years now. The minimum health protocols imposed by the CHO are constantly being practiced within the office and Davao Light Accredited Customer Service Centers through WOW: Wash hands frequently, Observe physical distancing, and Wearing of face mask and/or face shield; and the implementation of 50 to 60% work-from-home scheme.
In recognition, the Department of Labor and Employment (DOLE) Region XI has awarded the company with a Safety Seal Certification for the best safety practices during the pandemic just last year.