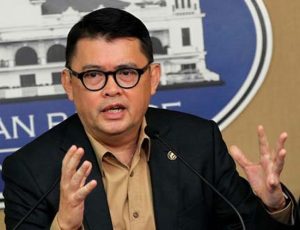 THIS was stressed by Presidential Adviser for Entrepreneur and Go Negosyo founder Joey Concepcion as he clarified a newspaper report quoting him as saying that there was talk to place Metro Manila National Capital Region (NCR) under Alert Level 4 amid the rise in COVID-19 cases.
Concepcion explained that during the interview, he declared that he "checked with some of the IATF members and there is no move towards ECQ at this point in time."
"When I was asked if there was about Alert Level 4, I said I asked Secretary Año and he said there is none," said Concepcion, referring to Interior and Local Secretary Eduardo Año.
During the interview, Concepcion also mentioned that there's no need to place the NCR under Alert Level 4 or ECQ because mobility of the people drastically drops after the Christmas season.
"The first quarter of the year is a weak and slow quarter since many have spent the money with Christmas gifts and New Year gatherings. This is the quarter where we see slow sales for most businesses," said Concepcion.
"So even if they did not place it in Alert Level 3, mobility will really drop and on top now of that surge, nobody will go out so there is no need to place it under Alert Level 4. People are generally scared to go out now because of the increase in cases and they have already spent their money during the holidays last month," he added.
Even though mobility is limited during this time, Concepcion believes that having a great and busy last quarter last year could still help businesses especially the small enterprises with coping up to the situation that we have now.
"Our decision to call for the lockdown in the middle of 2021 resulted to opening up of local businesses at the end of last year. People went out and spent money. This resulted to all businesses recovering from months of losses. If we were still in a lockdown during that time, it would be harder to get through this quarter," he added.
Concepcion also stressed that the private sector and micro, small and medium enterprises and local government units (LGUs) cannot afford another lockdown.
We're borrowing trillions of pesos. Our debt-to-GDP is growing. If we surpass 60 percent, then it's gonna hurt us big time. So we have to open the economy and leave it open but we should do it carefully," said Concepcion.
Concepcion also lauded the move of Manila mayors to restrict the movement of unvaccinated individuals, saying it is the right step.
"If we protect the unvaccinated by limiting their movement, we can protect them from possible hospitalization until they get their vaccines. If we continue to maintain a low hospitalization rate in the country, our economy can continuously recover," Concepcion emphasized.