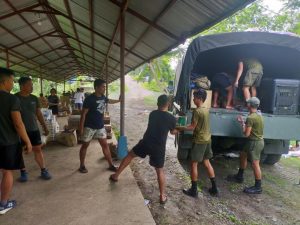 ARMY soldiers distributed 47 tons of relief goods that were transported from the headquarters in Fort Bonifacio, Metro Manila to Visayas and Mindanao.
Vice Governor Christopher M Yap of Southern Leyte received nine military truckloads of relief goods and other essential supplies for his province on Jan. 2.
In collaboration with the Army's 802nd Brigade, the relief goods will be distributed to the affected residents of the province.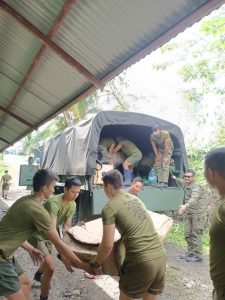 This was made possible following three-day travel on 21 military trucks to deliver the needed supplies to Odette-hit areas.
Meanwhile, the remaining relief goods arrived at the headquarters of the 4th Civil-Military Operations Battalion (4CMOBn) under the 4th Infantry Division in Butuan City on Jan. 3 before it will be distributed to affected residents of Surigao del Norte and Dinagat provinces in Eastern Mindanao.
The 4CMOBn and 901st Infantry Brigade will assist the local government units in the distribution of the relief goods in the said areas.
Army units, in coordination with national government agencies, local government units, and private sector partners, are working "round the clock to provide relief and rehabilitation assistance for typhoon-afflicted communities."
Army Commanding General Romeo S. Brawner, Jr. lauded the Army's role in the multi-agency humanitarian assistance missions for typhoon-stricken communities.
"I encourage our troops to continue their selfless service in easing the burden of our typhoon-stricken countrymen and helping them get back on their feet. Our troops' steadfast dedication and sacrifices enable our organization to accomplish tasks beyond excellence for the Filipino people and our country," he remarked.