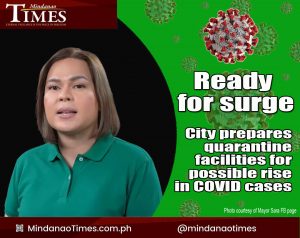 THE CITY government is already preparing for the re-activation of the temporary treatment and monitoring facilities (TTMF)s for the possible surge of COVID-19 cases this month.
"Ang atoang cases wala na siya nagababa wala pud siya nagataas. Continuing ang atoang preparation for the upcoming surge, which will come probably on the third week or fourth week of January. We will use the same strategy.. it will still be prevention, detection, isolation, treatment, reintegration, and the management of the dead," Mayor Sara Duterte said over the city-operated radio live interview on Monday.
Davao City is currently classified as alert level 2. But NCR has already reverted to alert level 3 from Jan. 3-15 after a sudden increase in COVID cases on fears that the highly transmissible Omicron caused the spike.
"Our COVID-cluster clinic is readying and then atong mga TTMF naga inventory sila karon kung unsa ang mga i-activate nato nga mga TTMF. Duna na tay guide in the event of a surge kung hangtod asa ta magsugod sa atong TTMF, and magsugod sa atoang home isolation," the mayor said.
"Naga ready na pud ta og coordination sa atoang private hospitals for those who will be needing hospitalization and medical attention," she added.
Meanwhile, has recorded critical and high-risk barangay based on the COVID-19 Task Force community classification from Jan. 3 to 8.
Also, based on the report, no high-risk barangays (in close proximity to critical risk barangays) was recorded.
Only Crossing Bayabas and Tacunan were classified under moderate risk barangays. Aside from those two, there were no other barangays were placed under the same classification.
Recently, Mayor Sara Duterte has reminded Davaoeños to still practice the use of facemask even inside houses and not to be complacent even if the city is already under alert 2.
Based on the record of the Department of Health, as of Jan. 2, Davao City has three new active cases for a total of 32 active cases with a total of 53,914 cases.