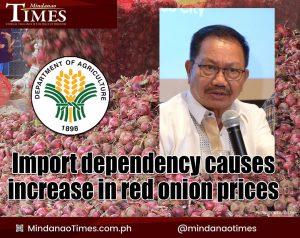 THE RECENT spike of prices of red bulb onions of up to P600 per kilo toward the end of 2021 ended was a result of an importation dependency.
Former agriculture secretary Emmanuel Piñol expressed concern over the recent increase in the prices.
"The 'onion crisis,' which saw the price of red bulb onions rise is another painful lesson that the Philippines should not depend on importation of commodities local farmers could produce," he said.
The senatorial aspirant cited that onion is grown in Nueva Ecija, Nueva Viscaya, Mindoro, Iloilo, and even Mindanao but the expansion of onion farms is dampened by the yearly flooding of imports from China, which he admitted is cheaper.
"The problem on being dependent on importation; if the foreign suppliers increase their prices, it will leave our government no choice because of the low on supply. This will also happen on the price of rice. If we will not amend the Rice Tariffication Law, the importers and traders will control the prices," Piñol emphasized.
He also added that the country has a vast area suitable to be planted with white and red onion bulbs with a temperature range of 13-25 degrees centigrade consisting of all types of soil such as sandy loam, silt loam, and heavy clay soils with a pH range between 5.8-6.5 and good drainage.
"When the Philippines was not flooded with cheap imported onions, the production was high allowing farmers to even export shallots to Indonesia," Piñol further said.
He also underscored that among the problems confronted by the local bulb onion industry includes – onion farmers having no access to credit, lack of technical support, lack of cold storage facilities where harvested Onions during peak season could be kept to protect the farmers from the exploitation of traders, absence of clear government policies to support local producers, and heavy dependence on importation which causes a drop in prices to as low as P10 per kilo during peak season.
He said the problem will not be solved until the traders and middlemen are monopolizing the marketing and distribution of the basic food commodities.
"We have to reform our marketing system and as I had proposed earlier, there is a need to revive the Food Terminal Inc., enhance its coverage to be able to establish Regional Food Consolidation Centers to buy, process, store and distribute basic food commodities like bulb onions," Piñol said.
He said that with an assured price of P40 per kilo to be delivered to the Regional Food Consolidation Centers where the onions could be stored, Filipino farmers could produce enough onions for the country.
"One of the major agricultural reforms which I intend to introduce should I be elected to the Senate would be the establishment of an FTI-operated Regional Food Consolidation Centers in the production areas and Farmers and Fishermen's Outlets in the big cities like Metro Manila and Cebu so that consumers could buy fresh farm products at a lower price," Piñol assured.