Hospital capacity should guide alert levels, minimum public health standards are still effective in preventing infections.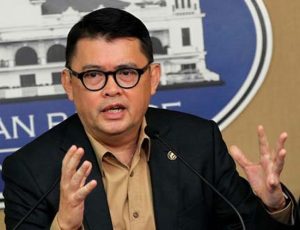 Hospital capacity should guide decisions about alert levels. This was emphasized by Presidential Adviser for Entrepreneurship Joey Concepcion, saying that the country must change its mindset about how it reacts to the pandemic into one that takes into account the healthcare system and vaccination levels among the population.
He expressed this viewpoint at the recent townhall meeting organized by Go Negosyo, "State of COVID in the Philippines: A dialogue on the Omicron and Delta variants: What we can expect, what we can do." The townhall was held online on January 5 and broadcast over the Go Negosyo Facebook page.
"We want the economy to open safely, and the only way to do that is to maintain our health situation," said the Go Negosyo founder. He explained that although case numbers may rise but if those who are being infected are vaccinated, then this should guide lockdown decisions accordingly.
"Vaccinations will not prevent people from being infected but it will prevent people from getting severe illness and death," he said.
"We should be concerned but not panic, and we should move ahead as planned," he said, pointing out that there are already vaccines available and that the public and private sector have successfully worked together.
During the townhall, Health Secretary Francisco Duque III said that healthcare utilization should indeed be part of the scorecard, and that it will need to be monitored closely. He added that while Omicron appears to be milder, it could easily overwhelm the healthcare system should it become the dominant variant. "The sheer number alone may negate the mild nature, we have to be careful and mindful," he said.
"What we want are early signals and forestall reaching the red line of healthcare utilization," he said. "A few days and the hospitals will be overwhelmed and lead to alert level 5, which could be a damper on the economy," he said.
The country, he said, must prevent breaching the red line of healthcare utilization, and continue to protect the vulnerable, who are likely to overwhelm the hospitals.
Also speaking during the townhall, Metro Manila Development Authority Chairman Benhur Abalos described the growth of COVID cases in the National Capital Region as "exponential". He reported that 34.15 percent of its 95 isolation facilities are already occupied even in this early stage of the uptick in cases.
He said that home quarantine is being encouraged, and focus must be on triaging cases to avoid overwhelming hospitals and facilities.
In relation to this, he urged the public to not be alarmed that vaccinated people are also being infected as this is statistically skewed because there are now more vaccinated people in the NCR. "It's really the unvaccinated who are suffering more," he said.
Vaccine Expert Panel member Dr. Rontgene Solante observed that as of January 3, emergency rooms saw mostly mild cases, and all had a history of socializing during the holidays.
OCTA Research fellow Fr. Nicanor Austriaco echoed Concepcion's call for a paradigm shift. "It's important to change our mindset, come to terms that if you are vaccinated and boosted, you should not be terrified. But you should remain prudent and careful," he said. "Beds must be reserved for severe and critical cases," he said.
OCTA's Dr. Guido David noted the almost vertical spike in the number of cases. Hospital utilization rates are also rising and halfway to Delta levels, this despite the prevalence of mild cases. It is believed that the cases are mostly mild or moderate and that because there is still room in the hospitals, people with mild to moderate symptoms choose to be admitted in case the symptoms become worse.
Austriaco believes, though, that the fear is not justified in light of the mildness of Omicron.
All the experts were in agreement that the public must continue to observe the minimum public health standards. "Vaccination is not complete without minimum public health standards, which is key to preventing infection and spread," said DOH's Duque.
As such, Concepcion reiterated that the country's pandemic strategy must stay its course. "There's no change in strategy at all. We continue to focus on vaccination, which is key to moving this pandemic into an endemic," he said.
OCTA's Austriaco cited data coming from South Africa showing that cases during their Omicron surge showed a very slim spike: it went up fast but also went down quickly. He added that Omicron might become a natural vaccine that will give significant population protection once it passes. He cautioned, however, that it will first have to find those who are unvaccinated or with waning immunity.
"We will expect high numbers, but mostly mild cases, fewer hospitalizations and deaths," he said. As such, he emphasized that people should not panic. "There will be no lockdowns unless the hospitals are overwhelmed," he said.
"In pandemic management, we are trying to save lives and to do this we must prevent our hospitals from being overwhelmed. He explained that the knock-on effect of pandemics are on the economy as more sick people are pulled from society once they are infected and quarantined.
Concepcion has expressed his full support for the MMDA's decision last January 2 to limit the movement of unvaccinated individuals in Metro Manila to protect them against COVID-19. "It was something we were really pushing for since last year to incentivize vaccinations," he said.
He emphasized that keeping the economy going is critical if the country is able to pay back the trillions of debt that it has incurred as a result of its COVID spending. "We have the arsenal of vaccines, and the teamwork between the public and private sector," he said. "We really have to find a way to coexist with COVID," he said.
###