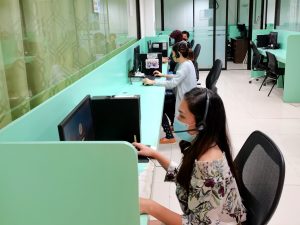 DAVAO Light and Power Co., Inc. (Davao Light) increases its customer service capabilities by providing more convenient ways to connect with its customers 24/7 with the use of different communication channels, may it be digital, telephone, and mobile phone.
Aside from responding to urgent power line-related concerns, Davao Light's digital and phone channels also cater to customer inquiries, requests, and other concerns.
Customers will no longer need to leave the comforts of their homes to go to Davao Light's accredited customer service centers to do transactions or submit requests because they can do it either by sending a private message to Davao Light's Facebook page @DavaoLightOfficial, direct messaging the official Twitter account @davao_light, sending an email to davaolight@aboitiz.com, or calling Davao Light's hotline number 229-3572 or mobile numbers 0920 970 1357 and 0917 864 2793.
These non-face-to-face channels will give more convenience to customers as they can now inquire about concerns related to billing, payment, application, and other Davao Light-related services no matter where they are and even during or beyond office hours. This can also manage the influx of customers visiting Davao Light's service centers as there is still an ongoing COVID-19 pandemic.
"In the new normal, we went the extra mile to provide better services to our customers. Davao Light also adapts in today's world where everything can be done easily in just a few clicks, including immediately responding to customers' requests and inquiries", said Davao Light Assistant Vice President for Customer Services Group Arnold L. Arsolon.
For faster handling of requests and reports, customers are encouraged to provide their details such as Davao Light Account ID, pole number, meter number, and exact location. A post-call survey is also conducted to customers after a case has been resolved.
Since 2016, Davao Light's Contact Center is available 24/7 to cater to all types of Davao Light services.