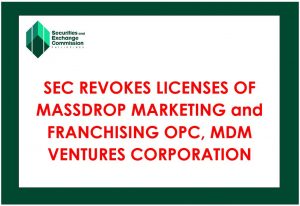 THE Securities and Exchange Commission has revoked the Certificate of Registration/Incorporation of MASSDROP MARKETING AND FRANCHISING OPC (Massdrop Marketing) and MDM VENTURES CORPORATION (MDM Ventures), headed by Edgar Joseph Tan ("EJ Tan/EJJTan"), Renato A. Sismundo, Jr., Eduardo B. Mallari, Jr., and Roel B. Duya.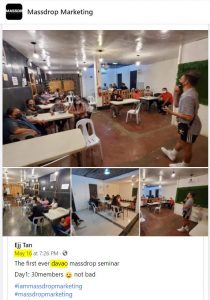 In an order dated December 31, 2021 the Commission's Enforcement and Investor Protection Department (EIPD) found Massdrop Marketing and MDM Ventures to have violated Section 44 of the Revised Corporation Code of the Philippines in relation to Presidential Decree No. 902A for serious misrepresentation as to what the corporations can do to the great prejudice of or damage to the general public.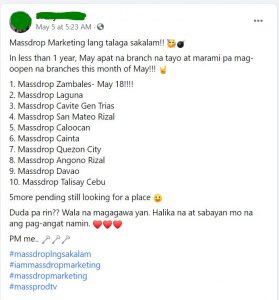 Based on investigation conducted by the EIPD, Massdrop and MDM Ventures entice the public to invest online or through the internet to become a member thereof with a minimum investment of Php1,000.00 with a guaranteed monthly return of 20% for 90 days or for a total of 60% income in just 3 months.  Accordingly, a member shall only need to invest, wait, and earn without having to do anything.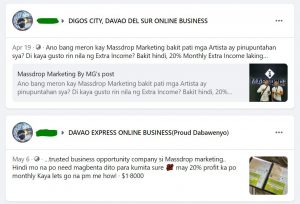 Consequently, it was found out that both corporations have not registered any securities pursuant to the provisions of the Securities Regulation Code that would allow it to offer and/or sell securities to the public.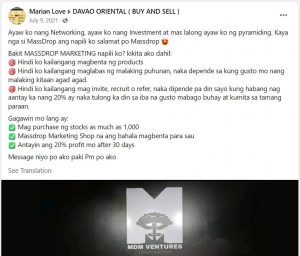 Despite the issuance of an advisory against Massdrop Marketing on May 18, 2021, it continued to perpetrate its investment-taking activities unabated through its owner, agents, representatives, enablers and influencers, this time through another entity, MDM Ventures, which was incorporated on 2 June 2, 2021.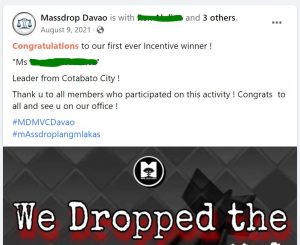 In this particular case, the EIPD carefully examined the characteristics of the investments offered by EJ Tan thru his affiliated entities to determine if they satisfy the elements of an investment contract.
In its evaluation, indeed, the elements of investment contracts are manifested in the investments being offered by EJJ Tan, as follows: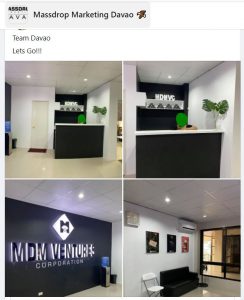 First, there was an investment of money from the public. "MASSDROP" and "MDM VENTURES" actually received money from the public who were enticed to invest in their scheme;
Second, there was a common enterprise in the sense that respondent "MASSDROP" and "MDM VENTURES" pooled the money invested by its investors in a profit-making venture;
Third, there was clearly an expectation of profits on the part of its investors who were attracted to join the scheme as they relied on the promise that their money would earn a monthly return of 20% in a total of 30 days or a total of approximately 160% for a minimum investment of Php1,000.00; and
Lastly, the expectation of profits is derived primarily from the efforts of "MASSDROP" and "MDM VENTURES" and/or its directors, officers, agents or representatives.
The schemes being offered by MASSDROP MARKETING and FRANCHISING OPC and MDM VENTURES CORPORATION are clearly in the nature of a Ponzi scheme where the profits or payouts shall be taken from incoming investors or additional pay-ins of existing members-investors, considering that it does not have any underlying   legitimate   business   from   where   it   could   source   its   promised   return   on investments to its investors.
We hope you could help us share this information to the investing public, especially since Massdrop Marketing and MDM Ventures, and its representatives and agents are operating within SEC Davao Extension Office's AOR.