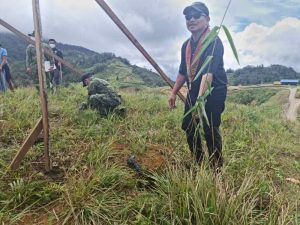 THE Philippine National Police (PNP) Mindanao Training Center in Sitio Lutangan, Barangay Kapatagan in Digos, Davao del Sur will soon be transformed into a "Green Camp" planted with various indigenous tree species.
Former Mindanao Development Authority (MinDA) Secretary Emmanuel Piñol leads the ceremonial planting of the 1,000 Giant Bamboo large planting materials and 100 Abuyog Jackfruit to a portion of the 100-hectare area police training center on Thursday afternoon, Dec 30.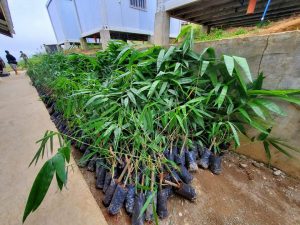 "I suggest that the training facility be called the "Green Police Camp" to serve as a model for the Kapatagan community for sustainable agroforestry in high elevations. It would turn into an oasis and an agro-forestry area in Kapatagan," he said in an interview.
Piñol also pledged to donate 4,000 more giant bamboos, 900 more jackfruit seedlings, additional seedlings of the native Tinikaran trees, and Pine Trees which he said would thrive well in the area, and a hand-held motor-driven driller to fast-track the planting of the seedlings.
"I have launched on my own the Green Philippines advocacy wherein I will distribute around 1,000 bamboo seedlings in every province of the country," he said.
Piñol added that the giant bamboo is an ideal tree to be planted in the sloping part of the training camp as it prevents soil erosion.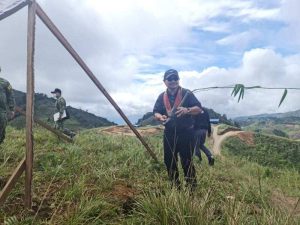 "We will make sure that the 100-hectare area is not only a training ground but we will make it a sustainable agroforestry area," he further said.
In a separate interview, Police Regional Office( PRO) 11 director Brig. Gen. Filmore Escobal, thanked Piñol as well as MinDA for choosing the camp as a potential agroforestry area.
"It's been very hard to source out seedlings and we are only given limited supplies. It is difficult to reach the goal of re-greening or reforesting this area," Escobal said.
He added that the bamboos will be a protected barrier for the camp's facilities since the area is frequently visited with strong winds.
"This is also a part of our project which is Police Makakalikasan, it's a national project of the PNP," he further said.