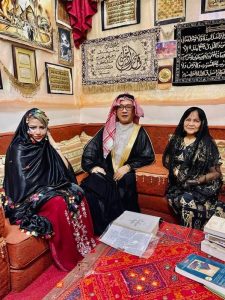 WE would think that this Holiday Season is an occasion of love, joy, family reunions and gift giving.  Christmas, pandemic or not, highlights the Filipino trait of hospitality, generosity, creativity, and devotion to the family.  But for some Pinoys, sadly, it won't happen this year.  Many of our overseas workers (SSS has recorded 1.34 million OFWs as of May 2021) especially those who live and labor in places like Saudi Arabia, the United Arab Emirates and Hong Kong aren't coming home as well-awaited and long-missed balikbayan bearing imported pasalubong and foreign currency this time due to the global pandemic.  For some people, it's a time of loneliness for not being with their loved ones.  And yes, the prescribed holiday theme tunes to listen to would generally be Gary Valenciano's "Pasko na Sinta Ko," Sharon Cuneta's "Miss Kita Kung Christmas," and also Ariel Rivera's "Sana Ngayong Pasko."
      Gary would croon, "Pasko na, sinta ko, hanap-hanap kita…Kung mawawala ka, sa piling ko Sinta, paano ang Pasko, inulila mo ako."  To which Sharon would sing with much feeling, "Ang Disyembre ko ay malungkot pagkat miss kita. Anumang pilit kong magsaya miss kita kung Christmas…Hinahanap-hanap pa rin kita.  Ewan ko kung bakit ba Ako'y iniwan mong nag-iisa. Miss kita…"  And Ariel's lament would be, "Pasko na naman ngunit wala ka pa. Hanggang kalian kaya ako maghihintay sa iyo?  Bakit ba naman kailangang lumisan pa? Ang tanging hangad ko lang ay makapiling ka."  Who wouldn't get emotional on hearing these songs like my friends and I used to listen to and sing along with when we spent  lonely holidays abroad away from our families.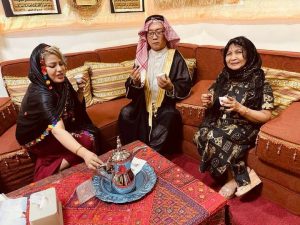 While it may not completely erase feelings of loneliness, Tamara Kimpo Alsheri was thoughtful enough to create an Arabian inspired room in their house in Ladislawa Village for her beloved mother, Mary Ann Tirol Kimpo-Alsheri, before she and her brother, Tariq, left for Saudi Arabia to join her Arabian father during the Happy Holidays.  "If mom prefers to stay at home rather than join us in Saudi Arabia, then I thought why not bring her Saudi Arabia right here in her home.  So I made for her this special room in the house featuring an interior solely filled with things Arabian," explained the good daughter of Ali Alsheri.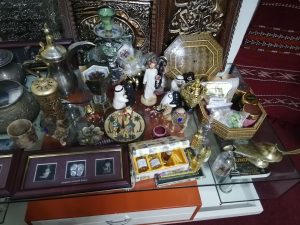 "The traditional Arabian 'majlis' is a private place where guests are received and entertained.  Quranic verses woven into fabrics adorned with extravagant frames are used as center pieces. 'Bakhoor' is an incense holder which is ever present in the Arabian room provided with different scents for the guests to use after a meal usually consisting of the staple Arabian food, kabsa.  Kabsa consists of rice cooked with Arabian spices and served with ones choice of either lamb or mutton, goat, chicken or beef."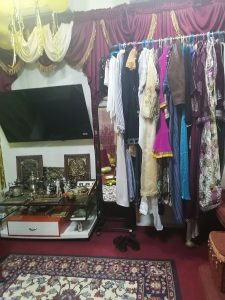 "The walls of the 'majlis' I made for my mother consist of the Egyptian wall adorned with authentic images of pharaos, queens, and mystic rituals drawn on papyrus; a Bedouin-themed wall; Arabian Calligraphy wall; and the traditional Clothes wall."
     "There is also a table on which is placed intricate figurines of Arabian men and women along with a box containing incense, frankincense and myrrh.  Oil perfumes and the traditional oud (Agarwood, a precious Middle Eastern resin giving a strong scent) along with a traditional coffee pot called 'dallah' are permanent fixtures found in a majlis," detailed Thamara.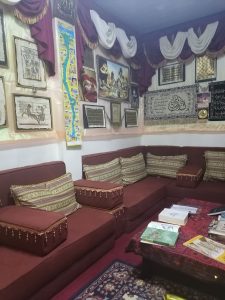 Although Mary Ann is grateful for the wonderful gift of her daughter to her, she confessed that she would not be completely lonely this Christmas.  "I have the time to do things that will enhance my self-esteem and give me a good dose of fun to take my mind away from feeling alone.  There are intimate parties to attend, exchange gifts with relatives and friends, and enjoy jolly feelings while catching up with close friends that we missed during the stay-at-home period of this horrible pandemic. I also have organizations I belong to with causes and advocacies I believe in.  Helping others who are less fortunate, like donating funds for the Odette typhoon victims, can fill you with feelings of love and pride.  It also reminds us of all the blessings we have to be grateful for; and connect us with others who share our passion and compassion," confessed Mary Ann.
     Indeed, there are many ways to immerse yourself in the true spirit of the holiday season without  feeling lonely and depressed.  Make the start of the New Year 2022 a truly good one for yourself and for others.  To quote Leon Brown:  "You have the power within yourself to make anything possible…"