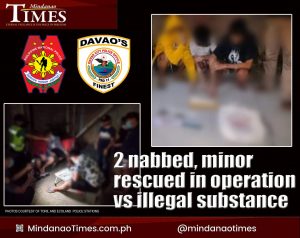 MEMBERS of the Toril Police Station arrested two individuals and rescued their companion, a minor, during an operation Tuesday night in Barangay Toril Poblacion.
Major Michael Uyanguren, commander of the police station, identified the two suspects as 
Kevin Jay Catamura Rosalita, 18, jobless, single; and Michael Angel Francunas Delima, 19, jobless, single; and the minor whose identity was withheld. All were residents of Brgy. Toril Proper.  
Uyanguren said the three were collared when they sold two sachets of marijuana to a police agent who presented himself as buyer.
Seized from them were a bag, a cellular phone and another bundle of marijuana as the total haul was valued at P30,000.
The suspects were detained at the police station as of press time as cases against them were still being prepared.
The minor was placed under the custody of the Women and Children Protection Desk (WCPD) section of the police station.