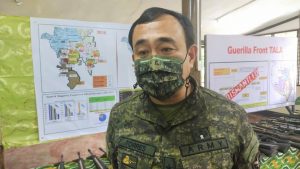 THE military reported that the New People's Army has two remaining fronts in the Davao Region following the capture and surrender of its top leaders this year.
Major General Ernesto Torres Jr., 10th Infantry Division commander, said the military has "neutralized secretaries, commanding officers, secretaries, political instructors and finance officers and some platoon leaders (of the outlawed group."
Torres added that only Guerilla Fronts 2 and 3 have remained as 55 were dismantled.
Because of this, he said, the target is to declare the region insurgency-free by March next year.
The military is looking at ending the armed movement before President Rodrigo Duterte's term ends, but Torres said his command has its timetable.