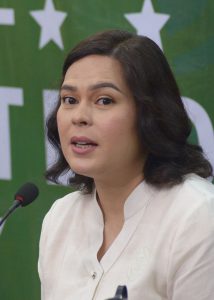 RESIDENTS who want to donate their food packs from the city government will have until January 15 to do so, said Mayor Sara Duterte.
The mayor said the donation of these packages would still be through the SafeDavao Quick Response Code program, the same program that can be used to claim these from identified stores.
"Didto sa donate, makit-an nato kung kinsa to sila because naa silay assigned na tindahan depending on their address. Atoa ng kuhaon didto sa tindahan. I-collate nato ng tanan and karong January, ipahatod nato na siya didto sa areas nga naagian sa bagyong Odette," Duterte said after the city government included in the program a button that can be used to donate the food packs.
The program was first implemented to track down the movement of people as part of curbing the spread of the COVID-19 virus.
When the city government decided to distribute food packs to residents, a feature to claim these packs was inserted in the program.
Also, the mayor said the city government has also set aside financial assistance to areas devastated by the typhoon.
Under the  aid package, a province would get P1 million, while a city would P500,000 and P300,000 for towns.
However, in order for these areas to be able to access the fund, their local legislative bodies must place their areas under the state of calamity.