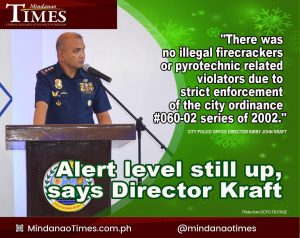 THERE was no report of any untoward incident during the Christmas Day revelry even as law enforcers have continued to host the alert level until the end of the Yuletide season.
City Police Office Director Kirby John Kraft said the celebration was generally peaceful even as the  local police and the rest of the security cluster have continued to enhance law enforcement visibility in areas where residents converge.
Kraft said that even the number of crimes against property, which would usually increase during this time of the year, has remained low.
Kraft added: "There was no illegal firecrackers or pyrotechnic related violators due to strict enforcement of the city ordinance #060-02 series of 2002."
There was also no report of indiscriminate firing of firearms, he added, pointing out that the security establishment has intensified anti-criminality and public safety campaign through its Oplan Ligtas Paskuhan 2021.
Despite this, Kraft said the city police has continued to be placed under a heightened alert status to ensure that security would be maintained.
He said he has reminded all police units to ensure that operational guidelines are followed.
"They were directed to maximize police visibility, particularly around churches, there vital installations and any laces of convergence, and to deploy mobile patrol units with blinkers turned on to visibly establish police presence," he said.
Last week, a letter was found near the city hall threatening to explode a bomb, but law enforcers arrested a suspect who admitted that he placed the letter because someone filed a case against him.