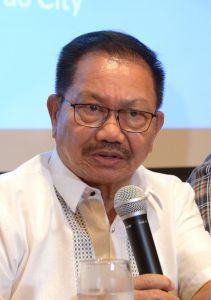 FORMER Agriculture Secretary Emmanuel Piñol proposed a radical shift in the architectural design of government buildings and private structures and homes in areas located in the path of the typhoons.
In his statement on Friday, the former Secretary said that with the destruction brought by Typhoon Odette, "I believe that the Monolithic Dome Program should be embraced by the national government, including the local government units, in designing the new buildings which would be built after the destruction."
Piñol cited that in 2018 when he was still the Secretary of the Department of Agriculture (DA), he approved the funding and construction of the monolithic dome to serve as a grains and seeds warehouse in the DA Experimental Station in Iguig town Cagayan Province.
"The first monolithic dome constructed by a Filipino company with Polish engineers as consultants and could withstand Typhoon Signal 5," he added.
Costing around PHP12 million and constructed in record time, the first monolithic dome and six other smaller versions constructed in Region 2 withstood the strongest typhoons since their completion.
During the inauguration of the first monolithic dome in Iguig town on March 28, 2019, the temperature outside when I arrived at 3:30 p.m. was a scorching 36C degree but it was only 21C inside the Monolithic Dome. 
Piñol said the Polish engineers told him that the dome has insulators that deflect the heat of the sun and keep the interior temperature at levels ideal for grain storage.
The Monolithic Dome Program, according to Piñol was supposed to be expanded to other typhoon-prone regions of Eastern and Western Visayas, Bicol, Southern Tagalog including Mindoro, Central Luzon, Ilocos, and Cordillera Regions.
Moreover, he further said that to adapt, adjust and mitigate the devastating effects of climate change, there should be a national program to plant native trees, fruit trees, and bamboos in the deforested mountains of the country must be implemented through a law that would require every Filipino and every agency of government to participate. 
Also, the national land-use plan must be passed and implemented which would define areas for habitation, agricultural production, and total environmental protection.
"This move, including the two other recommendations on the urgent planting of trees and bamboo and the implementation of a science-based land use plan, could help us adapt and adjust to the realities of Climate Change," Piñol added.