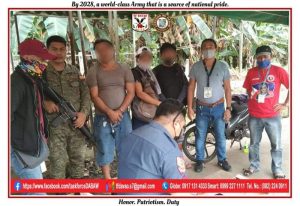 THREE individuals were arrested by elements of Talomo police in a buy-bust operation conducted in Dumalag 2, Matina Aplaya at 9:30 p.m. on Dec 23. 
They were identified as Danny Jim Haton, of legal age, male, and a construction worker; Ferdinand Magallanes, of legal age, married, and a vendor; and Leonard Magallanes, of legal age, all are residents of Dumalag 2, Matina Aplaya. 
Maj. Sean Logronio, the Talomo police chief, said his operatives, in coordination with Philippine Drug Enforcement Agency XI, caught the suspects in the act of selling suspected shabu.
The operation also led to the recovery of several sachets of suspected shabu with an estimated street value of P80,000. 
Also, a .38 caliber revolver with ammunition was recovered from the possession of Ferdinand Magallanes, the report said.
The suspects are now detained in the Talomo station as the charge is being prepared against them for violating R.A 9165 (Comprehensive Dangerous Drugs Act of 2002) and R.A 10591 (Illegal Possession of Firearms).
Logronio said, "We will continue to target those causing most harm and devastation in our community."
"The seizure of the firearm, ammunition, and a sizable quantity of illegal drugs will, we believe, contribute to the disruption and proliferation of illegal drugs in the city that we continue to target, for the purpose of keeping our communities safe", Logronio said.