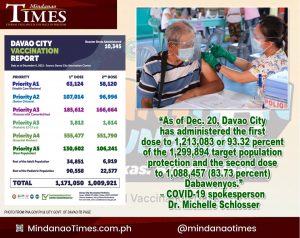 MORE than 30,000 individuals has been inoculated in the National Vaccination Day (NVD) Part 2 dubbed "Bayanihan Bakunahan" on Dec. 20 and 21, breaking Davao City's daily target of 12,658.
City Task Force COVID-19 spokesperson Dr. Michelle Schlosser bared this during the COVID-19 Alert program of 87.5 FM Davao City Disaster Radio (DCDR) on Wednesday, December 22. 
She said, "So far, for the past two days, successful kaayo atong NVD Part 2 or Bayanihan Bakunahan Part 2 (For the past two days, our NVD Part 2 or Bayanihan Bakunahan Part 2 was successful). We have hit more than our expected target."
At least 20,040 individuals were inoculated on Dec. 20, including the 5,674 individuals who received first doses; 13,498 who got their second jabs; and, 868 given booster shots.
On Dec. 21, the city government reported that 12,922 individuals were vaccinated including 3,395 who received their first jabs; 8,673 who were administered with second doses; and 854 given booster shots.
Dr. Schlosser lauded the health care workers, particularly the vaccine cluster headed by Dr. Joy Villafuerte, the City Health Office headed by Dr. Ashley Lopez, Mayor Inday Sara Duterte, Davao City Task Force COVID-19, barangay leaders, district health workers, the Vice Mayor's Office, the councilors, and the Dabawenyos for helping them achieve their goal.
"More than our goal atoang na-achieve. Congratulations to all Dabawenyos kay dili nato ni mabuhat kung wala ang kooperasyon ug partisipasyon sa atong tagsa-tagsa ka katawhan diri sa Davao City (We have reached more than our goal. Congratulations to all Davaoeños as we can't do this without the cooperation and participation of everyone else in Davao City)," the city health official said.
In a Viber message, Schlosser also said, "It is indeed a great joy for the Vaccination Cluster headed by Dr. Josephine Villafuerte, as well as the COVID-19 Task Force chaired by our respected mayor, and all the district health workers who manage vaccination hubs together with the private and public sectors who gave out their all-out support." 
As of Dec. 20, Davao City has administered the first dose to 1,213,083 or 93.32 percent of the 1,299,894 target population protection and the second dose to 1,088,457 (83.73 percent) Dabawenyos. 
"That is something that we are very proud of. Ang atoang tumong gyud is maka 100 percent. The best gift sa atoang pamilya, sa atoang friends and neighbors o kapwa Filipino is to have yourself vaccinated para sa Ligtas Christmas (Our goal is to achieve 100 percent herd immunity. The best gift to our families, friends, neighbors, or fellow Filipinos is to have yourself vaccinated for Ligtas Christmas)," Dr. Schlosser added.
She said the city government of Davao, through the Davao City Task Force COVID-19, has already employed all strategies possible to achieve the population protection target by the end of the year. 
She called on unvaccinated Davaoeños to help the city achieve its target population protection. "We won't be able to achieve our goal kung wala mo Let's help each other. After all Dabaweyos man tang tanan (We won't be able to achieve our goal without your cooperation. Let's help each other. After all, we are all Dabawenyos)."
Vaccination hubs, according to her, will continue to open as drive-thru, mobile, and door-to-door vaccinations will still be conducted even after the NVD Part 2 concluded on Dec. 22.