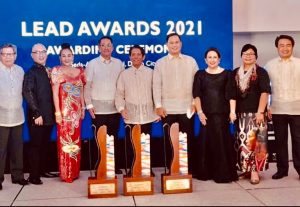 LAUNCHED in 2003 under the leadership of Bobby Orig, the Leaders and Achievers of Davao (LEAD) Awards of the Junior Chamber International (JCI) Senate Davao was established with the goal "to recognize men and women who have made meaningful contributions to the progress and well-being of Davao City and/or who have brought pride and honor to our city by excelling in their profession, business, calling or trade."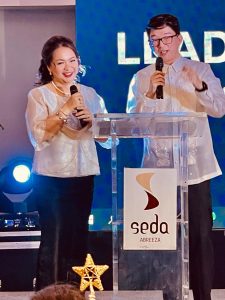 "Despite the global crisis that we are all experiencing, the LEAD Awards is an opportunity to celebrate those who have made a difference in this city.  This pandemic with its overwhelming consequences has brought people and communities to face very challenging situations.  In spite of that, there are individuals and organizations who rose courageously from this crisis and managed to make a strong impact.  It is thus very important that we acknowledge these admirable peoples' contributions to the Davao communities.  This year, nominations were received from the various sectors of our society.  The winners were categorized under 'Volunteerism, Environmentalism, and Educational Support and Management'," so reiterated Dr. Bernard Al-ag, the LEAD chairperson for this year.  The Board of Judges included Dr. Malou G. Monteverde, Dr. Luz Acosta, Dr. Mary Joselle D. Villafuer, Dr. Ronnie Amorado and Dr. Michael E. Dakudao.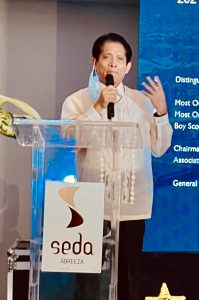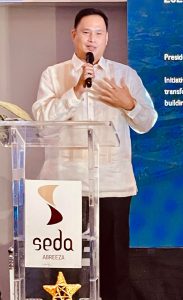 For this year 2021, the LEAD Awardees who were officially given due recognition in a formal ceremony at the Seda Abreeza Hotel last December 11 at 7:00 p.m. were Leo Tereso Abellera Magno for Education, Winchester Olivares Lemen for Environmentalism, and Dominador Anino Lopez for Volunteerism.
     Leo Tereso A. Magno was brought up to become a man for others.  The bright man is strongly guided by his family's educational institution's vision which pursues the dreams of Jose Rizal to make educational opportunities available for everyone.  Magno is a strong advocate of youth empowerment.  As the Rizal Memorial Colleges' current Chairman of the Board and Chief Operating officer, he continues to lead and adapt this iconic educational institution of Davao to a better New Normal.  Magno has been tirelessly and generously providing scholarship grants to Davao's less privileged youth for decades in the same manner that his grandfather and mother did during their time.  He has been partnering with various appropriate organizations in support of his advocacy to empower the youth of Davao City through good and quality education. Presently, Magno has been focusing his efforts on various educational programs which include technical and vocational courses as well as distance learning, and new learning methods especially for children with special needs.  It was last year when the compassionate Magno valiantly heeded the request of the local government for the free use of the RMC Gym as an isolation facility for those people infected with COVID-19.
     The licensed mechanical engineer Winchester Olivares Lemen is one remarkable advocate of environmental protection. Lemen established the waste recycling company called Envirotech Waste Recycling, Inc. in 2010 to help address the perennial plastic waste problem in the country.  The Davao-based company recycles single use plastic waste and transforms them into various highly useful products like school chairs, home and outdoor furniture, and some prefabricated construction materials to create sustainable and environmentally resilient homes.  Davao's local government and private companies have been supportive of Lemen and his admirable recycling company for their praiseworthy effort in transforming tons of single use plastic trash into useful products.  Owing to his exemplary achievements, Lemen has been getting his share of attention as a respected environmentalist in various forums here and abroad. Lemen remains steadfast in his advocacy to keep the environment healthy and alive.  "We reuse what you refuse," convinces this entrepreneurial environmentalist whom I so admire.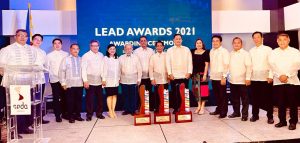 The 73-year-old Dominador Anino Lopez is a remarkable self-made man who rose from the ranks from being a security guard in 1973 to becoming the General Manager of the Davao City Water District (DCWD) in 2002.  Through Lopez's able leadership, the DCWD was able to acquire properties for its facilities in Madapo Hill, JP Laurel Avenue, Bajada and Matina.  This veteran is also credited for the transfer of the land title of about four hectares from other government entities to the DCWD in the construction of a water reservoir without spending money.
     Lopez later on served as Chairman of the Board of Directors of the Philippine Mental Health Association-Davao in 2008.  He ably raised funds which enabled the Association to provide psychological services to Balay Dangupan, a crisis intervention facility for physically and sexually abused children, the Lingap Center for the Mentally Challenged, to mention some.  Lopez passionately involved himself with the Boy Scouts of the Philippines that recognized him as the Most Outstanding Council Executive in the years 2018 and 2019.  As an exemplary civic leader, Lopez received the Distinguished Medal Award for his dedicated service and dedication to the Knights of Rizal and his pursuit of the ideals and values of the Order of the Knights of Rizal.  In the service of others, Lopez and his wife selflessly allocated their five hectare property in Sitio Guadalupe as the relocation site for the members of the Sto. Nino Grande Homeowners Association, and thus uplifted the lives of the homeless.
     Congratulations, JCI Senate Davao and the LEAD awardees for 2021.  Mabuhay kayong lahat.