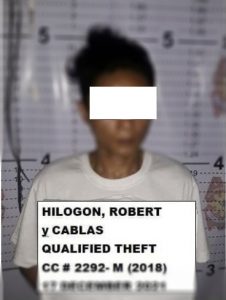 AUTHORITIES tracked and captured a wounded member of New People's Army (NPA) on Dec. 17, following a recent encounter in the hinterlands of Sitio Mangilit, Barangay Bal-ason, Gingoog City.
Soldiers of the 58th IB, together with the 1001st Maneuver Company, Regional Mobile Force Battalion Region X (RMFB-10), arrested Robert Hilogon, squad leader of Platoon Cherry Mobile, Guerilla Front Huawei, Sub-Regional Command 1, North Central Mindanao Regional Committee (NCMRC).
He was later discovered to have a gunshot wound on his left lower foot.
2Lt. Monique Olarte, assistant civil military operations Officer of 58IB, said concerned civilians gave a tip regarding an unknown male who was  transported to their area and was apparently wounded. The suspicious activity piqued the residents' interest, and they immediately reported it to 58IB.
The suspect has a standing arrest warrant with Criminal Case No. 2292-M (2018) at the Balingasag PNP. Hilogon was then turned over to the Balingasag MPS for proper disposition and case filing.
Lt. Col. Ricky L Canatoy, commanding officer of the 58IB said, "During the apprehension of Boyka, troops immediately checked on his wound and provided proper first aid before handing over to Balingasag MPS." 
He urged the remaining active NPA members to return to the folds of the law and surrender before becoming casualties of the ongoing focused military operations. 
"To the surviving members of SRC1, NCMRC, now is the time to return. Return to the legal folds and join the government's efforts to find a solution. You can always approach a reliable local government official or the Army to express your submission to the government, and we will ensure that you are not harmed or killed, and that you can instead take advantage of the E-CLIP benefits and begin living a worry-free life with your family," Canatoy said.