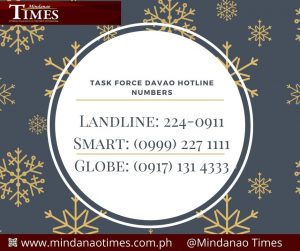 THE TASK Force Davao assured Davaoeños of safe Christmas and New Year's celebration despite the Facebook post from the Davao City government page disclosing about "two bomb threats"  
A post on the city government's Facebook page on Tuesday revealed that the security cluster is presently investigating two bomb threats that it recently received.
"Violent extremism is a scourge around the globe and Dabawenyos should, at all times, remain vigilant. On the other hand, threats may be politically motivated," the post said.
However, in a phone interview, Col. Darren Comia, the Task Force Davao commander, clarified that it was not a bomb threat.
"It's a threat in (a form of) a letter. However, we are on top of the situation," he said. "We have already a lead (on the suspect). We have the closed-circuit television (CCTV) footage," Comia said.
The Task Force Davao commander added that, hopefully, they can get more details soon.
"We are just encouraging Davaoeños to report anything or encourage the culture of security by reporting suspicious-looking individuals and similar things that can create panic," he further said.
According to the report, Comia said a concerned citizen reported to the authorities when he saw the letter that was placed on a vehicle at San Pedro Square near City Hall on Dec 20. The letter was written in Visayan.
Also, Comia revealed that last August, the Central 911 also received a threat from an unidentified caller. 
"But definitely, these two threats are different based on my analysis," he further said.
Moreover, the Task Force Davao commander said that the public need not panic and instead trust the law enforcement authorities to do their jobs.
For now, he said they are looking for an individual or person as he dismissed the possibility of terror involvement.
"It's just groups that want to create panic or chaos. But we are not taking it lightly. We are taking it seriously and looking into it," he said.
He encouraged people to immediately report information to the Task Force Davao hotline numbers:
Landline: 224-0911
Smart: (0999) 227 1111
Globe: (0917) 131 4333