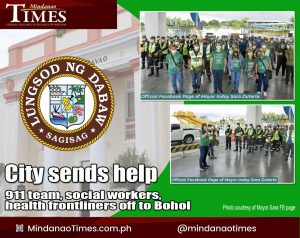 THE CITY government sent 911 responders, as well as medical personnel and social workers, to help in the relief and rescue operations for people affected by Typhoon Odette.
Mayor Sara Duterte led the send-off  of the rescue and medical teams from the City Health Office, Davao City Central 911's Emergency Medical Sevices (EMS), Urban Search and Rescue (USAR), Fire Auxiliary Services (FAS), Southern Philippines Medical Center doctors, and social workers from City Social Welfare and Development Office (CSWDO). 
The delegation is headed to the Municipality of Ubay, Bohol Province.
According to the report, at least 75 people were reported killed in some areas in Visayas and Mindanao after the strongest typhoon Odette hit the country this year.
After leaving a trail of destruction, the typhoon Odette left the country at 12:40 p.m. on Saturday, Dec. 18.
By 7:47 pm of Saturday, at least 18 national roads have reopened while six roads remained impassable to all types of vehicles in four regions, the Department of Public Works and Highways (DPWH) reported on Saturday.
The estimated partial cost of damage to national roads, bridges, and flood-control structures was placed at PHP213.9 million.
In a statement, the DPWH said as of noontime Saturday, two roads in Region 7, one in Region 8, two in Region 10, and one in Region 13 are still closed due to fallen trees, electric poles, and debris, damaged spillways, landslides, and road slips.
Among those cleared by maintenance teams are the Buenavista- Carmen-Danao-Jetafe Road in Carmen, Bohol and Tagbilaran East Road in Poblacion, Alicia, Bohol; Abuyog-Silago Road in Southern Leyte; Misamis Oriental – Bukidnon – Agusan Road in Bukidnon; Gingoog – Claveria – Villanueva in Barangay Samay, Gingoog City; and Dinagat-Loreto Road in Mahayahay, San Jose, Dinagat Islands.
On the other hand, seven roads have limited access: Anini-Y – T. Fornier – Hamtic Road, in Antique, due to broken and leaning electrical posts; sections of Daang Maharlika in Barangay Pinamono- an and Polahongon, Mahaplag, Leyte, due to a landslide; Impasug-ong – Patulangan Bypass Road in Bukidnon, due to soil erosion; Dinagat-Loreto Road, Diegas, (Basilisa) Rizal, Dinagat Islands, due to fallen trees; Pianing Bridge, Butuan City- Pianing-Tandag Road in Barangay Pianing, Butuan City, Agusan del Norte, due to damaged bridge; Butuan City-Pianing-Tandag Road in Barangay Anticala, Butuan City, Agusan del Norte, due to slope collapse; and Daang Maharlika (Agusan- Davao Section), in San Vicente, Sibagat, Agusan del Sur, due to flooding. With PR