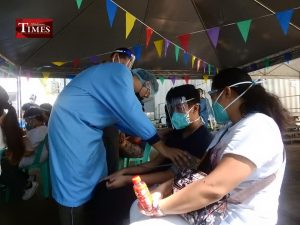 THE CITY government has postponed the second Bayanihan Bakunahan rollout to December 20-22 due to tropical storm Odette.
Dr. Michelle Schlosser, City COVID-19 spokesperson, said it is necessary to postpone the three-day event, which was supposed to start on December 15, because of the weather disturbance as the storm is expected to make a landfall either in Caraga or Eastern Visayas today.
"We are ready to conduct the vaccination drive because it is the same concept as last time. The only problem is the typhoon," Schlosser said, adding that all the components have been put in place for the success of the event.
Alfredo Baloran, head of the City Risk Reduction and Management Office, on Tuesday said the storm might spare the city, but it also may cause heavy rains and thunderstorms.
The city government is expected to provide shots to 37,973 individuals during the three-day event.