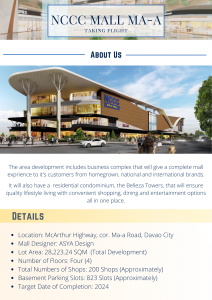 HOMEGROWN retail chain, New City Commercial Corporation, starts the construction of its four-
storey NCCC Mall Ma-a.
The area development includes a business complex that will give a complete mall experience to
its customers from homegrown, national and international brands.
A unique attraction of the mall will be 'The Nest' where shoppers can relax and enjoy Davao's
skyline view. Also available are four sports courts and multi-purpose halls for various events.
The building will house a complete mix of shops including supermarket, department store,
pharmacy, hardware, restaurants, among others.
The mall will also feature few entertainment options such as cinema, arcade and bowling.
The basement of the building will serve as a parking area, providing 800 slots.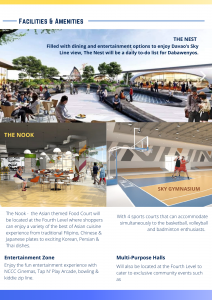 Mall Design
NCCC Mall Ma-a is shaped to embody the habitat and way of life of Davao City's icon – the
Philippine Eagle.
The mall will center on providing shoppers with convenience and accessibility where shopping,
dining, and  entertainment options are made available.
NCCC Mall Ma-a also aims to be an environment-friendly establishment advocating no to single
use, non-recyclable plastics.
Asya Design, the same company that designed NCCC Mall Buhangin is tapped to bring the
vision to life.