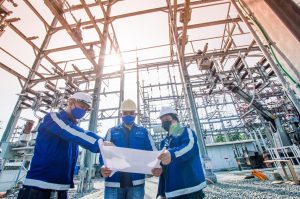 IN helping shape the future of the Philippines' energy systems, Davao Light and Power Co., Inc. (Davao Light) continues to future-proof its distribution network by building smarter and digital power substations.
On December 8, 2021, the company energized its first fully digital substation located in the downtown area of Davao City.
The P. Reyes Substation uses software-defined networks (SDN) which is a type of communication network that is more secure against cyber threats than the traditional ethernet networks. This system was developed in-house using commercially-available technologies. Both Davao Light and its fellow AboitizPower subsidiary, Visayan Electric Company, Inc. pioneered the use of SDN in the country.
Davao Light Assistant Vice President for Engineering Engr. Enriczar Tia said that the digitalization of substations boosts their efficiency and reliability. "The substation is now easier to monitor and faster to troubleshoot when problems are found. This helps reduce the frequency and duration of power interruptions and thus, is advantageous during this time when people are almost always at home for work and school.
Building a fully-digital substation focuses on converting analog values to digital values so they can be easily shared between devices in a substation. With this, there are unlimited ways to configure a substation to improve its performance, reliability, and monitoring.
"The difference between a conventional and a digital substation is like using a CRT TV where you can watch limited channels only, and now having a smart TV where you have unlimited choices of shows to watch," Tia added.
Aside from the digitalization of P. Reyes Substation, Davao Light also upgraded its capacity to 50MVA which will ensure an adequate supply of reliable power to a considerable number of customers in the downtown area of Davao City, especially since fast developments are experienced around the area.
Davao Light looks forward to digitalizing other existing substations and building new digital and smarter facilities to provide stable and reliable power to the customers it serves.