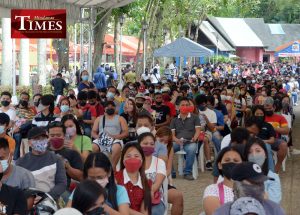 THE city government is targettng to vaccinate against COVID-19 37,973 during the second rollout of the Bayanihan Bakunahan which starts today.
On Monday, Mayor Sara Z. Duterte said she was optimistic that the target, which is 12,658 individuals per day for three days, will be achieved.
"We are supposed to be at 9,000 (vaccinees) per day para mahuman nato ang mga first doses by Dec 31, 2021. But I think with the next Bayanihan Bakunahan kadtong National Vaccination nato sa COVID-19, we can add more, maybe ma-achieve nato ang 100 percent sa first dose," the mayor said.
During the first rollout, the city was only able to achieve about 75,000 vaccinees ot of the 49,000 daily target.
As of December 10, the city was able to provide shots to about 1.191 million residents, or about 92% of the target, and 1.046 million for second doses, or about 80% of the 1.2 million target.
This developed as the mayor reported that as of Monday, the number of active COVID-19 cases was at 88 with three new cases reported on that day, the regional office of the Department of Health said.
The mayor and Dr. Michelle Schlosser, spokesperson of the COVID-19 Task Force, lamented that some people were still hesitant to get inoculated.
For city government employees, 613 have yet to get vaccinated, the city government is providing them counseling, the mayor added.
The mayor earlier said non-regular city government employees will not be prioritized during the renewal of their contracts.
Last week, Schlosser said some city government officials, among them councilors, have been trying to convince those refusing to get vaccinated, particularly those living in hinterland villages.