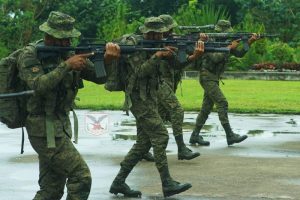 THE military has raised its alert level in preparation for the upcoming commemoration of the 53rd Communist Party of the Philippines anniversary on December 26.
Major General Ernesto C. Torres Jr., 10th Infantry Division commander, said his unit has long prepared for any eventuality especially since the special day of the outlawed movement is within the Yuletide season.
Torres urged the public to be vigilant and help the law enforcers to prevent the rebels from staging armed activities. He said the public should immediately report suspicious activities.
Despite the alert, the military unit reported that there was relative peace in its area as more members of the movement either surrendered, were captured or were killed.
"I urge all our peace-loving countrymen that with your cooperation we can achieve a peaceful Christmas celebration together with our loved ones," Torres said.